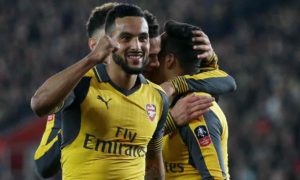 You got to love the F.A. Cup. And you have to love games like this. We cut through them so easily. So much pace and one touch and two-touch football. No-one dwelling on the ball. Quick passes. Did I mention that AR8 was not playing.
As the game lined up I figure this was Arsenal Reserves versus Arsenal Future XI. It's a nice way to see the best youth players Southampton have on offer for us to buy at some point. This year I was a little disappointed. The only one that looked decent was Sims. Their defender Stephens – who was great against Liverpool – was crap today. Just goes to show how easy it is to look good against Liverpool. Just ask Wolves.
The movement was everything it's not been of late. Much of the impetus came from both Maitland-Niles-Any-Other-Names and Adelaide. They exuded composure on the ball and positional were excellent. This was clearly the best Adelaide has played for us. He looked like he's a slightly bigger, more muscular version of Ob1.  Except that he's touch was superior and passing was excellent. Maitland is not the physical presence of our Coq but on many occasions, he effectively covered and backtracked for our wankey full-backs. Both were very impressive today.
Bellend and Gibbs were our only disappointments today. For someone as experienced as Gibbs – and our captain – he looked very rusty on his return from injury. On a number of occasions he was easily disposed and/or pushed off the ball. And on most occasions Maitland was there to cover for him. In fact, in the first half, there was even one time when Theo was there to clear the ball out of the box. The version of Bellend we saw today was reminiscent of the Bournemouth one. Nearly every move he made was wrong – whether it was his passing or heading. He clearly needs time to rediscover his game.
A word or two on Ospina. Good. Great catches. Safe hands. There that's it. Aside from his one moment where he went walkabout in the first half.
Our center halves were largely untroubled. Mustafa was solid and, to his credit, I can't remember Holding having to do too much. If we can draw a lowly team in the next round that should be another opportunity for him to get 90 minutes – he deserves it.
Danny Fucking Welbeck. How resilient and persistent is he? Not really given his injury record. But it was good to see him back and making runs like he did today. Maitland played a simple direct, forward pass (please note Mr. AR8), Perez applied the Giroud like one-touch pass and DW finished with style. For the second it came care of one of many perceptive Ozil-like long forward passes from the Ox. DW's first touch was not great but he recovered to slot it home. A few Theo like-goal indeed. Then not to be outdone Theo added 3 more. All were classic Theo. After yet another subtle pass from Perez, DW pulled it back for Theo to alertly pass it in. For Theo's second The Ox reprise his pass for the first goal and for his third it was started by Maitland defending and Perez imitating Ox with the long pass. Perez really is a remarkable player in so many ways. Sure we paid 17m+ for him. But given his lack of playing time he (aside from his first match against Southampton) always finds a way to contribute. For someone we nominally signed as a forward he smoothly fits into a number of slots in our team and our style of play. As previously noted, he's a faster version, more skillful version of Poldoski. He's a left-footed player that's superior to our previous Spanish import from 10+ years ago (Reyes). And this left-footer is not going to runway to ManU. His movement and passing were instrumental to our goals; he just has to improve his finishing. Either way, he will surely get more playing time as the season wears on. If I was Giroud, I'd be worried (but i'd also not enjoy being French).
Sure Southampton were pretty shit. But we've made much heavier going of worse teams. The balance of the team was entirely different to our "first" team. The difference is not just the platform that Maitland+Adelaide provided (along with Ox). It was dictated by Theo's presence. I reckon this is what AW has been waiting for. This is the reason Giroud has been starting. With Theo on the right we have balance. Even though Bellend was shit the combination play with these two is way better – and the pace is electrifying. And, compared to previous years, Theo now actually defends, closes down players and works back in defense. In fact, the entire midfield worked harder to close down their players quick and put them under pressure.
Again, more F.A.Cup games will allow us to see more of Maitland. He could be interesting. Because against Preston – at right-back – he was rotten. Likewise with Adelaide – the more playing time for them the better. Both look at least a season away from being ready but there is real promise there.
How English were we today? Gibbs, Ox, Walcott, Welbeck, Holding, Maitland – 6 players; more than half the team. I've seen commentaries (from Arsenal and non-Arsenal fans) over the last few weeks moaning how we don't have any English players in our team. Such utter bollocks. First off, who cares. Secondly, as AW says, if they are good enough they play irrespective of their passports. Of course, if you're injured (Gibbs, Theo, DW, Ox) it's hard to be selected for a game. People – including our own "fans" have it in for AW. They look to pick holes wherever they can. This is yet another example of artificially looking for a bogus issue – and then being plan wrong.
Today was a bright day for us. Healthy signs that our future – with AW – looks bright as we get to see what our more youthful players can do. And, of course, we have the pleasure of seeing the desperation of Alexis to get on the pitch when there is nothing left to play for.
So, fare-ye-well to January. A quite marvelous month for us after the trauma of late December. The future looks much rosier. We know that the well anticipated February/March meltdown is just waiting round the corner for us.
Now onto Tuesday when our ponderous midfield Welsh player will return. And, I know the world is waiting with great anticipation for the launch on the new, all-modern, all-signing and dancing new bradybergkampandbeyond website. The masses are hammering at the gates to get an early preview. It's currently going through final reviews and sign-off by both management and our copyright lawyers. Once approved then the  media will be notified such that all and sundry can prepare themselves for the startling, eco-friendly, high-tech, green, website. It will be mobile friendly, allow readers to subscribe and also post comments. The excitement is unbearable.
– LB7