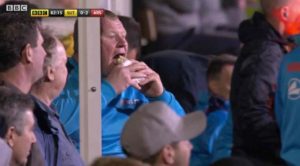 We are the champions. We are World Beaters. Bring them on. We showed the world today. We rose to the challenge. Against all the odds. We fought the media and the team won. I'm so proud of this team. And, it only gets tougher in the next round. If only.
In fact, it was a pretty tedious game. Not that I blame Sutton. I'm happy that they could make some money from this. If it weren't for the fact that this is the last review I can write for 10 days I don't know why I'd would bother. I found it hard to be too excited. You just knew the outcome. So I was not exactly on the edge of my seat; it was more like watching a training season.
Of course, you're not actually allowed to watch a training session. On a couple of occasions I have tried to get into London Colney I've been turned away by security that could not have been tighter at Windsor Castle. That would be a great experience but one that we're completely locked out from. If only they protected money in banks like they protect London Colney; or even if they protected their goal like they protect London Colney. Anyway, back to the game.
We did learn some things today. If you can ignore the fact that we'd already learned most of these already.
Ob1 should not be played on the wing; Adelaide should not be played anywhere. The Eastman's and other Arsenal rejects in the Sutton team must have looked longingly at these two and wondered what they'd done wrong. If those two could be given so many chances why couldn't they? I now that's not quite fair. And, I'm pretty sure, the final destination for these two will be in a comparable team. It's so frustrating to watch the way these two play. They seem to want to pass the ball in and refuse to shoot (or at least on target anyway). They have over-studied at the Alex Hleb school of shooting. And Adelaide was so casual on the ball in the first half when the ball broke for them after our corner. He was lucky to only get a yellow. But it demonstrated poor judgement and a casualness that's surprising for a player trying to break into the team.
Mustafa and Ospina suffer form the same issue. And inability to concentrate for an entire game. As many great saves as he made against Bayern today he demonstrated the type of jitters that undermine a defenses' confidence. That crazy pass out of defense at the end of the first half. Then the corner that he came out for and missed and the next time when he punch the ball out when their player had got in front of the ball. It's just unnerving. Then he came flying out the goal after the Ox lost the ball; luckily our defender got their first. BTW, did Ox not learn from the same mistake he made against Bayern?
Mustafa really does enjoy passing to the other team. He refuses to learn his lessons. He insists of trying to force the ball through the middle of the pitch and so often just turns our possession into their attack. Against a real time this would have been dangerous. Why does he not realize that he needs to be more patient. And, that he should not be making those passes – he should be looking for our midfield players to pass to (over short distances). It's as though Mustafa just losses concentration.
Chaka picked up the usual yellow card. I don't quite get his game either. He passes quite well going forward – he set up the first goal with that pass to Perez. But, again, the yellow he picked up was so unnecessary. Elneny looked stable and solid. But, of course, picked up the usual Ramsey calf injury. If only he could transfer the strain to Ramsey himself we might be protected from his possible return.
Monreal looked his usual sluggish self. He's understanding with Ob1 was demonstrated with a couple of misplaced passes in the first 20 minutes. Somewhere in the last 3 months he's lost his game. I'm looking forward to seeing Cohen Bramall as our left back.
Come the big game come the big player. Theo racked up his 100th goal today. What a player. At this rate he'll be 40 years old when he gets he's 200th goal. Imagine if he could surpass Henry's scoring record. Of course, Theo would be 50 years old by that stage.
Of course, I liked Perez again. So nothing learned there. He worked hard, scored one goal and was buzzing around the entire game. He really deserves more playing time. Certainly more than Ob1. Ox's cameo was interesting. The pace of our game noticeably picked up when he came on. The Elneny/Chaka combination is too one dimensional. With Ox there our movement is (slightly) better but of course, we're prone to the defensive give-aways.
Holding again looked solid. BigEars put in his usual limited, reliable performance. And did I mention that Perez played well.
Beyond that we were never going to learn too much against a team at this level. Of course, we barely needed to get out of first gear. And I'm glad we did not batter then (if we could). That would have served no purpose. We won and that's the only thing that counts. And most of the players treated it like a training session.
So now we have 10 days of dissecting the future of AW before our fateful trip to Anfield. That's way too much time without a game to watch and way too much time on the hands of other people to tell us why we need another manager. That's not to say there is not a debate to be had. But for these nauseating fans, it's not a debate it's a personal crusade. I'm frustrated with this team. I'm not convinced we've got the right players (Ob1, Mustafa, Chaka) but we are a better squad than we were 3 years ago. We've spent money whereas in the past the complain was that AW was too mean to do so. Notice now how the argument has shifted from not being prepared to spend money to we bought the wrong players. Like no other team misfires in the transfer market. It's all part of this moving target with AW. It used to be about our 9 year trophy drought. But once we won a couple the argument slide to be we don't challenge for the Premier league. Each year we qualify for the UCL. But now the sense of entitlement that these fans have means that they demand that we're not good enough because we always get knocked out in the round of 16. Yet they neglect to notice that ManU, Chelski and Liverpool are desperate to get into the UCL having missed out for many years.
This attitude to AW makes no sense and precludes a sensible analysis of the situation. It forces people into their polarizing positions and therefore we don't get to assess what the right way forward is.
But being of sound mind and body I will take on the weight of maturity for which I'm so well known. And using this mantel, between now and the end of the season I'll figure this all out. I will solve all our problems and provide coherent answers. By the time I'm finished, all will be well with the world.
And, of course, most of the outcome for AW will be driven by what happens between now and the end of the season on the field. Imagine that. It will be dictated by our results. What a shocking notion. Rather than complain about the Chelski result or the (appalling) Bayern one we will judge AW once we've played Liverpool, Spu*rs and the two Manchesters. I'm not actually confident of the outcome but until we see the carnage that is likely to happen all we can do is support our team and pray for positive results. Of course if your obsession to see AW leave is such that you'd happily take defeats to speed up his departure than, clearly, you fail the definition of a fan. And thus, to be clear, you should fuck off. You should chop off your head (hard to do, so feel free to ask someone else to help you).Cut off your legs (much easier). And shut the fuck up. Supporting the club and team must come first to any personal vendetta. It would be like claiming to be a monarchist (not that i understand why anyone would) and trying to change out the queen. Or being a religious Christian and not believing in God. You either support Arsenal or you don't. If you do support them then you must look for them to win all their games.
Rant over and back to reality. I'm also shit scared of going up to Anfield.
– LB7