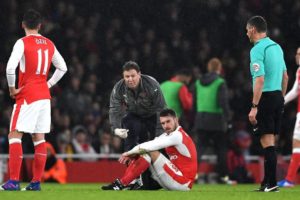 I fucking knew it. I go to all the trouble to re-design the website for my millions of followers. I spared no expense. Brought in the best minds to work on this. Go through an official launch. And what happens? Fucking Ramsey decides to resurrect the ghost of Arteta. It was like watching Arteta versus West Brom. There's something about the #8 shirt. It's cursed. Or rather, the players given that shirt are cursed (though I think that might be the same thing – I just confused myself). Anyway, the only question for today is the following? Would you be prepared to sacrifice 3 (winnable) points in exchange for another Ramsey injuring that could sideline him for a month (or longer, if we're lucky)? I wouldn't. Only because there's a chance it might just turn out to be a minor injury.
Whereas we've played a game of two halves too often this season and frequently gotten away with it. Today our hens came home to roost (whatever that means). We finally got caught out. You can't give a team a two-goal lead and expect to always be able to recover. The second half was an entirely different affair. But, my oh my that first half blew. In fact, it was that first 20 minutes or so. We looked like the walking dead. What is it with this team? There was no passion, no interest, no commitment. The entire team looked dazed and confused. Even disinterested. They could not string any passes together. Nothing. Horribly reminiscent of Bournemouth and other such outings. How can this be? As has been said many times it's clearly a mental thing. But that can't explain why it repeats.
So, what more can be said on that first half? In the first few minutes on the half way line Giroud went for a ball and hardly stretched out before the Watford player got there first. He then proceeded to watch and meander around the pitch. He's had plenty of time off but, again, he reproduced his performance from the first 70 v Bournemouth. I start on him only because that was the first thing I noticed. Thereafter, it became apparent that AR8 was back to his fine best. Always taking too many touches and being too slow on the ball. He was not the only one that sucked but, hey, I must focus on someone. AR8 turns Coq into a mini-Coq. They have no chemistry or interplay. Overall we were too slow, too passive, insipid and a complete embarrassment.
In that first half Watford had more urgency and more shots on goal. In fact, I don't know that Gomes (that world renowned goalkeeper) had a shot to save. They could easily have gone in more than 2 goals up. They had a couple of other chances that they should have taken. We were truly beyond abysmal.
The only silver lining was that once AR8 departed things started to look up. But his two contributions were two goals but both generously for them. The first was an unfortunate deflection after a needless Mustafa foul but the second was just pure AR8. Missing the throw-in and then ambling back as they counter-attacked. You just can't lose the ball there (well, evidentially, you can).
There were sequences in the first half when lost everything single challenge we went into. It started outside of their penalty box. First Alexis, then as they got to the half-way line Ox lost a tackle and finally Mustafa got beaten in a tackle. This was endemic of the first half. Unfortunately, though, as hard as he worked, Alexis first touch was non-existent for the entire game. And he continued to over-dribble. Ozil was not present in the first half. And OB1 was still in the changing room. No wonder we were pulled apart.
Why does it take a half-time talk to shake things up? Why is there no-one on the field who can shake things up? And how can it be that a team consistently comes out unprepared to commit to a game. As I've said many times, as much as I love the guy this stops at AW's feet. This is exactly his responsibility. It's groundhog day.
The second half, predictably was more like a regular performance. I hoped for that but did not expect half time changes. AW never does that. But this one was warranted if not demanded. Pulling of Giroud and adding in Theo. Overall, Theo had too many chances to score that he squandered. And there were periods where I forgot he was on the pitch. But we were much better with this configuration. We found some of our speed and movement. Ob1 rediscovered his game on the left hand side. We started to click. I assumed we'd score but I also assumed we'd at least recover for a tie if not pull out a win. But that's what the past has indicated and we know that is no indication of the future. (does that even make sense?). But it seemed like we lost our rhythm after out first goal. We had the momentum until then. We continued to make changes. The Ox continued his good form from Saturday. Let's just hope he's not also picked up he's regular injury. It became clear that Coq was unnecessary so we pulled off our Coq. And, again, Perez, was a great addition and nearly scored a Poldolski like goal but instead nearly broke the bar. If we could have added Bellend that might have helped but we did not need 4 at the back. And BigEars is not our best outright attacking full-back. But we had more chances and should have gained a point. It was there for us. But, it's our own fault for that first 20 minutes – and having AR8 on the field.
I don't care that other teams around us dropped points. That's an unfair comparison – some of these teams are getting their harder games out of the way whereas we've still got tough away games to play (please see this upcoming Saturday) and that's why we needed to win today.
I can't quite figure out why I'm not more angry. I fear it's because I've been conditioned to this type of performance and it's so typical to come after our F.A.Cup performance. It could also be because I was in utter shock as to the abysmal way we started the game. And that vacant look on the players face after the first goal went in. That first 20 minutes was unforgivable.
Lets just hope Ox is fit and Ramsey isn't. Chelski will out play and out muscle us this Saturday given half a chance. We have the ability to compete. But as a professional football team they have to be prepared for each and every game. This team has demonstrated that they have mental strength – even today, in the second half – they reacted well (which is the least we can expect). It's not that that's in question. It's their attitude and expectations. Did they come into this game thinking it would be a cake walk? Were they basking in their own reflected glory from 5-0 on Saturday? Either way there needs to be a campaign to retire the #8 shirt. And preferably with the current occupant still in it.
– LB7
p.s. welcome to the newly designed website. If you're still reading this post – congratulations. And if you'd like you can now subscribe to all the posts on this most wonderful site. Never live in fear that you'll miss any of these scintillating reviews or commentaries. Sleep easy at night knowing that you're email box will soon be filled with yet more trash.