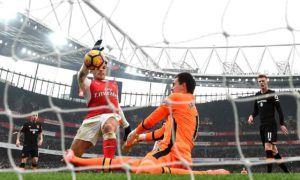 Three points.  A minor miracle but not much of an achievement. That was very much like the continuation of my visits to the dentist. Valuable though the victory was there was little in the way of enjoyment or satisfaction.
Today we started pretty much how we finished. Disjointed, slow with a lack of cohesion.  It was surprising and disappointing to see the way we started the game. As in, it looked remarkably similar to how we played against Watford and other such games. There was little pace or swift movement in our game. Hull weren't so bad. And we were barely better. What's so striking though is how pedestrian we look. Too many players have lost their mojo.
Team selection was not what I was hoping for. Theo did not deserve to start and proved again that since he's injury he's not back at the races. And Hector is still part Bellend. Since his ankle injury he's yet to rediscover his game. He's an improvement on BigEars when we play the weaker teams. But the right hand side of our team is missing. It's as though AW will play the exact same formation and players until we finally click – assuming we ever do. If I was Perez I'd be steaming quite a bit.
So we had plenty of chances in the first half – most care of careless passing by Hull – and yet we found ways to miss the target without even testing their goalkeeper. Poor old Alexis. Sure he scored two goals. But he could and should have had three goals before he got his first one. And as for Ozil. Unfortunately, he was somewhat shit today. He missed chances in the first half and then mimic Theo by disappearing for long stretches of the game. In fact, both he and Alexis contrived to give the ball away today with errant passes. And Alexis has this nasty habit of doing to when he's in passion running back in the direction of our goal. And Bellend landed one deep into the terraces when it would have been easier to hit the target.
Ox was one of our better players today. It's funny to think that he's the one player that has performed above expectations in this savage week or two. Of course, your great author identified Ox as the primary weak spot. That, naturally, was a typo  I had meant to say it was every other player that was the week spot. When he was shifted back out to right wing he subsequently disappeared form the game. That right-hand side is turning into our Bermuda Triangle – where are vanish into. It's amazing that Ozil has found a way to disappear without getting pulled into that region.
OB1 was pretty good today. He had some energy and imagination. But our Coq seems to have shriveled up lately. He seems positionally lost alongside Ox. On many occasions he was the playing further up field. And that meant that our central defenders yet again had too few options ahead of them when they were bringing the ball up.
It will be interesting to see what AW does now that Chakas' suspension is over. My hope and strong preference is that he starts on the bench. I would not bring him right back into the team. I know we need to rest Coq and Ox but it would send him the wrong message. For BM play the same midfield and then let Elneny play against Mighty Sutton.
Overall, we were lucky today. It's funny how we're starting to get penalties. And don't we need them. That and a jammy handball.
Not that Hull created many chances. But we looked pretty uncertain. One penalty away from a single point. There's a fragility to this team. There's a lack of identify. And, after the last two games, most noticeably, there's a lack of confidence.
As has been previously noted, these aren't the games that will dictate our season. It's the game against the top 6 that will. And I saw nothing today to give me confidence that the outcomes against those teams will be any different to last week.
We now have three weeks until we head up north to Anfield. Let's hope we can find some form before then. But I'm not so hopeful.
For extra reading, I wanted to comment on the knee-jerk reaction of our own fans to our predicament. We lost two games in a row. And we've looked shit for a few weeks. Please see how this happens to other teams – i.e. Liverpool. But it's amazing to see how certain fans pile onto any disappointment with such abandon and glee. They bring their agenda of AW hatred to the table at the expense of the club, team and (possible0 success. They are, quite frankly, morons and ignoramuses. They have no idea what they are talking about. And when change does come – and it's inevitable that it's coming – they will be the first ones to complain most loudly (because, for sure they have to complain loudly) that we've chosen the wrong replacement manager. How they would have pick Manager X. And, maybe, then they will, just maybe, lament their responsibility for ushering our most successful, longest serving manager too hastily to the exit. And, as readers of this blog will now, their leader in chief seems to be that biggest of pricks. The largest of prats. The most annoying of wankers. That's right –  Pre Menstrual (Piers Morgan for those new readers). It occurs to me there are parallels between Piers Morgan and a certain other loud mouth, obnoxious, egotistical, bullying, uninformed and unqualified well known individual. And that leads me to the realization that Piers Mogan is the Donald Trump of Arsenal supporters. God help us all.
– LB7