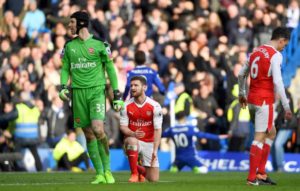 This was a game of two headers. From one they got a goal and we lost our right–back. And from the second header our new right-back could not score. Two defensive players in similar positions. They scored and we did not.
So evidentially we're not human and we don't have a backbone. Ouch. This was just too depressing to watch. And, trust, me it's even more to have to blog about. If it were not for my legion of avid world-wide followers demanding my assessment I would not take on this painful and arduous task. But, I console myself in thinking of the greater good here. And, for my reader, I'm happy to make this required sacrifice. BTW, if you want any more feeble attempts at humour you should stop reading now. That was its peak. From here on in, it's all drab and serious and, oh I know, depressing. Trust me when I say this is not a happy posting. If you've come here looking to be entertained, trust me, you've come to the wrong place.
Let's not be fooled. Chelski were the far superior team. They played as a unit; they played like they knew where each other would be. They defended en mass and attacked en mass. Even in the first half it was clear we could be overrun. We could not maintain possession. We actually started the game reasonably well with a high press and that lead to an Ob1 shot and deflection. But then it all fell apart pretty quickly. And though that first goal was not quite fair based on the balance of play it was clear that we were in for a long afternoon. They just dominated. We were disjointed. They are a superior team.
However, that does not fully explain the result. It's not always the case that the better team wins. But it requires the other team to work extra hard. And today, like Tuesday, we lacked intensity. We lost our shape and were too exposed. We always looked at risk of letting goals in. And there was no attacking threat from us. Sure, we had a couple of chance at the end of the first half; Ozil in particular should have done better, but there was no cohesion in our movement. We seemed to, quite literally, hit a blue brick wall. There was very little creativity. It's not often you could say that about Arsenal. But today they perfectly played Alexis. He continued to dribble too much and loose the ball. He did not have a single shot or header at goal (let alone on target).
What does this all mean? Fuck knows. How we finish for this season was not (or should not) have been driven by this result. But it was the way in which we lost that was so disheartening. The lack of fight. The underperformance of our star players. Too many of our key players were absent. This was the worst I've seen Alexis play. Ozil was absent. On performances like this the argument to pay them their increased wage demands looks like misplaced.
Compare the contribution of Hazard and Costa to Alexis and Ozil. Not that anyone in the league could be compared to Hazard. Sure, our midfield was absent and weak but Hazard was flat out outstanding.
This meant that the other players were under way more pressure. Whenever the Ox or Coq received the ball they were under immediate pressure. They had few options ahead of them and would often get out muscled and then Chelski would break on the counter-attack. Funnily enough, I thought Ox was pretty good in midfield today. Sure, he lost the ball every now and then – in fact, one instance was eerily similar to when we lost here 6 nil – but he worked hard and was not so much of a liability. Unfortunately, the same can't be said of Coq. Today, when we needed him most, and when he's up against Konti, he underperformed. Aside from getting brushed off the ball by Hazard leading into that second goal, he too often left the backline exposed. He was too slow into the tackle and did not seem to read the game quickly enough. Maybe times they just passed around him (literally).
Part of this was because we did not seem to play as a team. We seemed disjointed. Each player seemed too far away from the other player. It's painful to watch us be so clearly out-manned. Today did not so much exposure our weaknesses but rather our limitations. Maybe that's the same thing. I'm too pissed off to quibble. Either way this was all just a little predictable. This was our chance to reclaim our season. But this was different from Tuesday's spineless defeat to a poor team. Today we were second best. We are not a championship winning team. We have too many weak links. Aside from the underperforming players we lack the cohesion of a team. That's pretty damming. We looked disorganized. Our marking was poor. We gave the ball away too easily. Against other teams we might be able to get away with this but not Chelski (or, I fear, Sp*rs).
It's not clear there's much point in dissecting our players but as part of the therapy of writing this blog I need to divest myself of my anger so bear with me. If I had to start with our poorest players aside from our two stars – though it should be note that Ozil was better than Alexis – we need to consider Mustafa. We've frequently seen that his distribution is poor. But today he found new ways to consistently give the ball away. He continued to put us under pressure. He was plain awful. I know he's new to the team and he's only 24 years old. But he was a big, brown pile of shit today. Alongside him Koz had one of his poorer games. He also lost out (twice) to Hazard during that second goal. But was also at fault for the cross coming in for the first goal. When we needed a big performance from him instead we got that of a mouse.
Close behind Mustafa, but because he was not actually watching, not that far behind, was Theo. How irrelevant was he? No contribution nor presence. He was absent without reason. His passing was shit and his touch was shit. He reverted back to last years invisible performances (or, as he was against Watford). When DW23 came on, within the first minute he'd beaten his man and earned a booking for them. Wellbeck did more in 30 seconds that Theo had done in the last two games. How can that be? Theo will now be consigned to the bench (I hope). If it were not for his 3 goals against Southampton we could argue that he's not back to full fitness. Our supersub Giroud came on he lost every challenge and, until the typical consolation goal, was utterly useless.
Ob1 was not involved when he played out left but, again, when he moved into midfield, got more involved and was behind any improvement we saw once we went 2-0 done. Of course, that was largely driven by Chelski taking their foot off the gas. Against a more demanding team they would have reengaged if needed.  But Ob1 and Ox can't protect the backline. And today nor could Coq. So we have to add him to the catalogue of players that sucked today. It's not often our Coq sucks but there you go.
The irony is that those players that were either out of position or the likely weaknesses were not our problem today. I have no problem with Ox, Ob1 or even Gabriel. Today it was a failure to perform as a cohesive team and the failure of the senior, star players – Alexis, Ozil, Theo and Mustafa. And we could add Cech. What the hell was that 3rd (but irrelevant) goal about? I'm not sure he made more than 1 save today.
We were never going to win the league. Today was just final confirmation of that. But, as in previous years, the focus now moves onto our manager. And Alexis. I fear performances like this might bring about the end for both of them. Both bear responsibility. Alexis will look around this team and realize it's far away from winning anything. How long will he want to be part of this? And Wenger? Now the usual wankey fans will be up in arms. But this time they have evidence to support their case.
We can still – care of Liverpool – end up in the top 4. But it's the belief and spirit that's missing. Today demonstrated – and I can't believe I'm about to write this – that we need to swap out our Coq. We need to go fully trans-gender and remove our Coq. Konti showed what we need. It also demonstrated that Ozil is not worth as much as he thinks he is. And nor is Alexis.
Where does this leave us? Fuck knows. The even more worrying aspect is unlike Tuesday when the issue was attitude and preparation, today it was team organization and actual ability. It's not the end of the world. That's schedule for later in the season. If we reproduce this at Liverpool and, most importantly, Shit Hart Lane, then it will be. So, we have plenty of time to prepare for these events. Pace yourself. Don't burn yourself out in anger. At least Chelski are unquestionably a superior team. We are no match for them. Full stop. And it's not clear others are. Though Hull will be interesting now given their revival. What is it with Italian managers. Italy produce the most boring football and most boring teams. But they seem to have managers that know how to get the best out of teams. And, unfortunately that leads us right back to AW…….
-LB7