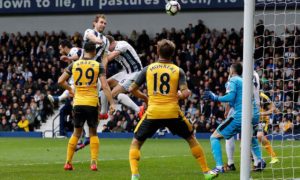 There is little, if any, life left in this team. We are heading into the middle ages here. It's going quite dark and will be for a while.
We actually started really well. We pressed and controlled the game. We dominated possession and started with real energy. We looked good. And yet somehow we contrived to throw it all away. And in such a predictable way. Watching this unfold is just so sad and depressing.
Let's take some time to review this team and our play. Alexis (pre-hack) was excellent. The left hand side of our team controlled the game. On the other hand, on the right Theo was still recovering from not being selected in the England squad and Bellerin was left by himself too often.
Ox was very solid and Chaka was worthy today of a correctly spelt name. This was – by a country mile – his best performance in an Arsenal shirt.  He controlled the midfield changing direction and tempo when needed. Some of his long passes were outstanding. I can't think of a misplaced pass. Unfortunately, ahead of him there was an ineffective Ramsey and a weak version of Welbeck. Not that I was unhappy with the team selection. Having Welbeck up front seemed like a good strategy (to start with anyway). But, today, he did little. But still more than Theo.
Yet, we found a way to self destruct. How can it be that going into a game versus WBA we don't have a strategy for defending corners. Two goals from the same player making the same run. How is that possible? At this level of football? I can't fathom it. We play a zone marking system but there is no-one in the zone where Dawson was? I don't get it. For that second of the two he beat two other WBA players to the header – there was no Arsenal player anywhere near them. They were all at the front post. How is that zonal marking when no-one is marking a zone?
For the second goal you had the now, regular, frailties, of Mustafa missing a clearing header to gift them possession and then the, regular weakness of Ospina in goal gifting them the opportunity. Ospina had, literally, nothing, to do all game and yet gave them the second goal and could not get off his line for the third one. There was a smidge of a shout for offside on that second goal in the build up but that's no excuse for how Ospina came out so slowly and then could not recover for the trickle shot under his body.
There was not the slightest indication we'd lose the game prior to this point. But, in classic Arsenal style (of late) we found a way. By the end we were a sorry state of a team – we barely had a chance on goal (OK, Welbeck had a header and Mustafa was fouled for a non-penalty on the rebound). But beyond that, we were going nowhere. We ended up looking downtrodden and lost.
How does this happen? How can you lose to WBA – and lose like this? We basically gave them this win. They played a predictable game. We had the possession and then caved in. Losing Cech was massive – though he was also at fault for the first goal. Our reaction to their first goal was perfect. We recovered to dominate the game further and carve out an excellent goal. The pass from Chaka to Sanchez was exceptional; Ozil-like in it's vision and precision. It looked like Alexis missed his chance to shoot but then perfectly put the ball past the goalie and defender. Game on! We had not deserved to be one-goal down and now we were in the driving seat. We had started well and then had reacted well to their goal.
But there were a couple of turning points. Losing Cech is a big deal (as his first half save showed). And then the McLean hack on Alexis effectively ended Alexis day. You could see in the second half that Alexis was still hobbled by the hack – and hence he was finally substituted. With this team we need someone with creativity, passion and a goal-scorer. And that is Alexis. Without him we were toothless. Without him we were devoid of ideas. How many saves did Foster have to make in the second half?
Of course this is now all secondary to the heavy cloud hanging over the team. The focus will be on the manager. I understand that. But, honestly, I would like the focus to remain on the players. They were the ones on the pitch. They were the ones that disappeared when they were needed.
How was it that Koscelny did not win a single header at Rondon the entire game. He also over committed on the half way line a couple of times and got out muscled by Rondon each time. Rondon! Not Costa or Ibra but Rondon! How is it that Mustafi does not know how to pass the ball to our midfield players? How does Mustafa continue to make crucial mistakes in each game. How can Ospina come off the bench – desperate for first team minutes – and screw up like that? In summary, how abject was our defense today? Where was the leadership? This team makes too many simple mistakes. We see this each game now. Most of them are from Mustafa. But today he had Ospina and the rest of the defense to blame as well.
There is no doubt that todays performance and result is the low point (or no point) of the season. Losing to Bayern, given the injury to Koz and then the corrupt referee in the second game is one thing. But losing like this at WBA to such entirely predictable goals against and entirely predictable team is unacceptable. WBA brought nothing to the game; they sat back and let us have the ball. Our weakness is when (good) teams press us high up the pitch. Today we had the ball. And this is why Chaka was so good. And yet, we found a way to self-destruct. By the end this team looked completely defeated, despondent and lost. They knew they were better than WBA but they did not know how to beat them.
Moving onto the rest of the team – what happened to Theo? Why is Ramsey so much more effective in his international team? Where was the on-field reaction. Why is someone not organizing the defense for corners? Sure, the coach/manager is responsible for the tactics and training ground preparation. I assume during the week coming up to this game there was planning on how to defend a corner. But when, literally, the entire team ball watches and then gets beaten in the air I don't know how the manager is responsible for that.
But, of course, he is. He is responsible for placing faith in these players. And, aside from pre-hack Alexis and Chaka and (possibly) Ox, nearly each and everyone of them could be upgraded. Then the question becomes, does AW have the appetite for that. The club now have not just two weeks but a season or two to re-build out of the glare of Champions League football. This team is not good enough – in reality – to claim a top four spot. There are at least four teams consistently better than us – and the table does not lie. Even beyond the top 4 this team has the potential to end up 7th – behind Everton. We've demonstrated our lack of ability all season long. If the team can't come back after the most recent defeats and recover against WBA then this season is done. Forget the Man City game. This team is too fragile. It's only has a couple of world class players. It needs a rebuild.
DB10 mentioned that we should sell our English/Welsh players to the premium clubs who will pay a premium for home grown players and then re-invest it. Not the worst idea I've heard. We should be planning for long term success and that should start now. Whether we get into the top 4 is a distraction. Because, even if by some miracle we do, this team has not further growth potential.
I'm sure between now and the end of the season we'll have a swan song game where everything clicks and we look tremendous. But that will also be a distraction. We have the potential now to hit the reset button on this team. The question is, clearly, whether, during this long cold winter, our manager should be AW or do we bring in someone new. There is an argument here that leaving AW in charge will give him the runway to definitely prove that he should not be manager. Perverse as that sounds it would then land the next manager in a position where rather than being expected to continue the 20 year run in Europe the expectations would be such that there is a two year re-build during where we might not make Europe. The danger is that by taking this approach we won't be able to attract the worlds best players and thus it will be harder to complete the re-build.
To contradict myself though, I think it's becoming clear that these players are not of the caliber we need. There is a lack of fiber, character and leadership. I'm not saying AW bears no responsibility. It's just that he does not carry the entire responsibility. The players cannot escape their responsibility. And nor can the Arsenal Board. They are as derelict in their duty as anyone. They have enabled the vacuum of football knowledge in this club to expand. And they are in no position to chart out a path without Wenger.
Wenger will be with us for the rest of the season. He might not be here next year. He will decide. But what of the players. Should they be with Arsenal? Todays (and previous days) evidence is that the majority should not be. We need a passion and drive in this team that is clearing missing. We are in need of another goalkeeper, center half, a left back, a true defensive midfield player, a world class striker and a winger. We need to sell Ramsey (not that he was the worst player today – that's a high bar 🙂 ), Monreal, Gibbs, Mustafa, Welbeck, Ospina, and GIroud. And most of the other players will end up being bench players. This overhaul will take a couple of years.
We have two weeks now to further dissect this abject performance. I am now thoroughly convinced that this team is done. It can't go further forward. This is not just an emotional reaction to todays performance. We have the witnessed a consistency to our under-performance for long enough to not over-react to one game. The over-reaction though will be to AW's presence. That will be a mistake. That is not the issue now. The issue is the responsibility of the players. They should be held accountable for this.
-LB7