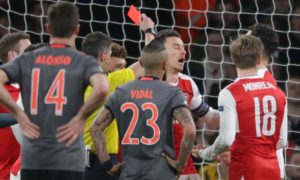 OK, bring on Lincoln!
For all the likely moaning about this result, AW and the failure of this team it's hard to be too upset. No-one really expected us to qualify. It was always about respectability and improvement. And up until we were reduced to 10 men we have a semblance of that. There had been an interesting, open game developing.
I'd been considering writing an article about how much better CL refs are than English ones. How the myth of better refs in England was false. I'm glad I passed on that. I'm sorry, there's no way you can send Koz off and give a penalty. Thereafter the game became even more irrelevant. Even with Koz on the field we were never going to qualify. No-one ever thought that would be the case. But by sending off Koz and seeing the same floodgates open it just re-creates the story of a failed Arsenal and a failing club. For the moment, I'd prefer to talk about the game.
It was interesting to see that even with Ramsey in the team it was Ox who started in the center of midfield. Ox seemed the most distraught by the scoreline. He did not stop the entire game. Sure some of his efforts were misguided but he held his own in midfield. It's not necessarily true that he's our future but it's at least pleasing to see him improve in this position.
And our friend Ramsey was interesting. He provided no cover to Monreal. He looks just so slow in covering back. But going forward he's really quite dynamic. When he moved into an Ozil like position he comes alive in ways we never see when he's playing the holding role.
Losing Welbeck in the warm-ups was impactful. I was looking forward to seeing Alexis upfront. Instead we had to see Giroud labour to link up with the team. Unfortunately, nearly all his touches were misplaced. And, in the second half, he had a game changing free header in the penalty box that he could not even get on target (care of Ramsey).
Bayern were more mobile and controlled large parts of the first half but we found a way to withstand their onslaught and create chances. Theo missed the first one laid on by Alexis with a heavy touch. He then redeemed himself with a bullet shot past Neuer. This was another classic Theo performance. All too often he loses control of the ball (as he did leading up to his goal) but he does have a knack for taking his chances. You could see his clumseyness all throughout the game. But he worked harder than more recent games and does find ways to score.
BTW, it's fun to compare the two goalies. With nearly identical situations Neuer can't keep out Theo but Ospina saved from LeadenDowSkis. Not that I'm saying one is better than the other. But whoever we had in goal today would not have helped us unless it were 10 rhinos stacked lengthwise and vertically on-top of each other. And let's face it, that can't happen as we know Rhinos don't like football and don't even have football agents. And more importantly, none of the shoes companies make boots big enough for their feet. So, clearly that's an impractical suggestion.
In two games with Bayern, when Koz is on the pitch we outscored them 2-1; without Koz they outscored us 9-0. It would seem like Koz is an important cog in our defense. Who knew? The second half, up until then, had been enjoyable to watch. We started it quite well playing a high press game. We should have gone 2-0 up (thanks Giroud) but then Bayern started to ramp-up their pressure as well. And then the ref and linesman intervened. It's a real shame because the team needed just the kind of performance they were in the midst of working hard to create. If only we could play Bayern for 55 minutes games we'd be world beaters. Maybe, next time, we can play four games each of 45 minutes.
Alexis was a little subdued. He would have been more effective in the central position. Again, thank Welbeck for that. Luckily, we had no Ob1 today. Alexis reverted more to creator-in-chief than outright goalscorer. It's a shame he gave them one of their goals. Likewise, with Mustafi. But, again, it's only pride that's hurt. Though some will question the way to team folded (again). At least we're consistent.
So, we need 11 men to play Bayern. Who knew. And we need Koz. Der. Funnily enough we kept on trying to play; kept on trying to move forward and therefore exposing our defense. Without leadership, it's awful. Interestingly we did not bring on BigEars but moved Chaka back there. And he was responsible for one of their goals by another misplaced pass. The issue here is that we really don't have a central midfield pairing that provides defensive cover. You could see it in the first half when all too often Chaka, Ox and AR8 were caught on the wrong side of their players. And this was true not just on fast breakaways but even through their gradual buildup. Until we have a true holding, defensive midfield player we'll never have the conviction or backbone a team needs.
Now I know this is all a side issue. We collapsed. People will be demanding heads roll. The anti-AW momentum will swing into full(er) gear. After the 25 minute collapse I understand but that's not the issue. Today, for me, it was about a stupid fucking linesman that changed the delicate balance of the game. Again, we had no illusions that we'd qualify but playing with 10 men when you have to chase the game does not teach you too much more about your team. Overall the ref was inconsistent – letting many fouls off and not using the yellow card on Bayern players. Again, I know. Who cares. I'm saying this as much for completeness. I know most Arsenal fans won't care. They will be wallowing in the result. For me, I'm looking for reasons to be cheerful. I've not found any but I'll continue trying. It's not like anything dramatic is going to happen between now and the end of the season. And nor should it.
Maybe it's because I have such low expectations. Maybe I've been beaten down so much. I hate the fact the headlines will trash us. But then I try to ignore headlines. This match was never going to determine our season. It was the first game in Munich that might have done that.
But you have to believe the pressure is mounting. Of course, it's self for-filling. People want change. Of course they'll be unhappy with what they get. Cough Cough – take a peek at the USA. But when there's no value on consistency and no appreciation of even our recent achievements then you're fucked. Tell me that AW has lost the team. Tell me AW can't get anything more out of this team. Tell me AW can't take them to the next level. But don't tell me we've underachieved. You can tell that to Man U and Liverpool. They would have died to have been knocked out of the final 16 in the European Champions League.   As would 16 other teams in the Premier League. It's not about not being able to challenge for the title. It's about whether the future can be improved over the past. And the nice thing is we don't have to decide that. Not now anyway. Come the summer, then is the time.
Timing though is important. I trust AW. If he's going to leave he will announce it before the close of the season. Then we will have a small window to find a manager and then start signing players (including our own). There is no way AW will dither. If he's going to leave he won't let it drift into the summer; he won't want to hurt the club or his legacy. My guess though is that he will re-sign and stay with us. And I'm OK with that. But then I am, as anyone that knows me will tell you, a stupid wanker.
I am brave enough though to predict one thing. We will bounce back from this defeat with a win in our next tough assignment. Bring on Lincoln I say!
-LB7