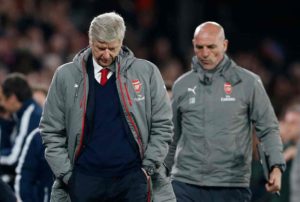 Sorry.
OK, that's it. Nothing more to say.
We were robbed. Three point stolen. Er, no.
We were so unlucky – hitting the post – coming up against a goalkeeper that played out of his skin. Er, no
We played with 10 men and the referee decided the game for them. Er, no.
We came up against a top team that on the day would have beaten anyone. Er, no.
We were shit. Ah, that would be it.
Every single player sucked (on our team of course). Yes. that would be true. Well, nearly. I thought Xhaka was the only player who actually played.
This is what it must have been like to have supported Sp*rs for the last 20 years. Decent players congenitally under-performing.
So, sorry to all my children. I have taken the best years of Arsenal for myself. To you I have bequeathed the barren years. The mediocre years. The years of being an under-performing, over promising and under delivering team. This is what lies ahead. Upheaval and Uncertainty. The big "U"s.
As Moses comes out of the desert we are about to enter it. Not for 40 years (I hope) but not for a weekend trip either.
Even after this abject non-appearance I'm sure AW will sign-up for a couple more years. The club is not set up for a manager transition. Maybe we can hire Christian Gross or AVB. Or how about Moyes. That will keep us locked into AW. Arguably he's earned the right to fix this. 20 wonderful (or mostly) years and one horrible one. Though, with this team, I fear there are many more in our imminent future. Rather than witness a slow painful decay I think someone has speeded up the process. It's now longer a linear decay but it's exponential now. Maybe that's better. We can find our low point quicker. But I know we're not there yet.
After today there can be no more illusions that we can get into the top 4. So, now watch all those "people" who claimed and mocked Arsenal and AW that we treated 4th like a trophy (even though we've been 2nd and 3rd for the last two years) flame out with righteous indication that we've failed to make Europe. Exactly those people who claimed there was limited value in qualifying for the ECL will now be the most vocal that we won't qualify.
Be that as it may though. I can't cater to those wankers. They are demented retards. In many ways just like the bulk of our team. A perfect match for each other.
For today, it's hard to know who was our worst player. Bellerin was awful in some many ways. Welbeck was ineffectual in many more. Theo had a perfect position from which, as a spectator, to watch the entire game. Ozil looks lost. Sanchez missed three chances in the first half and is wasted on the wing. Monreal was not so bad; nor was Gabriel. Mustafa only wasted a few passes but lost every header to Benteke. I could go on but what's the point. Oh, I nearly forgot. When my favorite player, AR8 arrived on the pitch, he managed to miss tackles, passes and watch their second goal after missing two chances to win the ball. But there is no point in just picking on one player – as much fun as it is. We are sub-standard. We are not good enough. Losing to world-class teams like Watford, West Brom and Crystal Palace defines the limitations of this team. Liverpool go a goal down at Stoke and win. Sp*rs go a goal down at Hull and win. We goal goal down and contrive to give them more goals.
Funnily, it was not so hard to watch this game. There was no anger. Just tired acceptance that we're not going anywhere. This team is disjointed. It's lost tactically and quality-wise. It requires a complete re-build. I would retain Ox and Xhaka. Alexis will leave. As should Ozil. He can't function in a weak team. I'd keep Koz. I'd not miss anyone else.
So, sorry to my children. I can wallow in the memories of the first 10 years and some of the memories of the last ten. I grew up in barren years so I'm built for this next phase of Arsenal live. I've seen the dreary Arsenal team of the 80's. I saw the decay of the original double winning team in the 70's. I know what it's like to support a shit team. I was brought up watching a team swing between winning and boredom. So you though need to gear yourself for the wilderness. Thankfully you'll have you tube and facebook to remind you of past glories.
-LB7