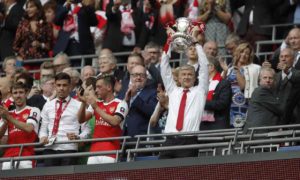 Fuck me sideways. We just MAGA. I did not see that coming. We were superior, the better team and utterly deserved to win. Could this really be true? Is someone going to wake me up from my (beautiful) dream. Please don't. This was one of those rare occasions where I wanted the game to continue for another 90 minutes. This was so fucking enjoyable. Never in doubt (aside from my total negativism leading into the game).
Where to start? I still can't believe we had Ospina in goal. Crazy-arse decision that. And after he flapped at their goal one that could have come back to haunt AW. As it was we immediately resumed our dominance.
From the beginning we dominated. A minute into the game we started to control the ball and found gaps behind Kanti and Automatich. That first goal was dubious not because of the possible offside but the clear handball by Alexis. But I don't give a fuck. We scored. Deserved it and then had numerous chances there onwards. I can't recall them all but Welbeck should have scored, Ramsey got one past Courtouis for Cahill to clear it and then Ramsey headed against the post from a Welbeck header from a corner. The balance of the team look good and we were running the game.
Going in one nil up at half-time was worrying only because you had to believe Chelski would not play that badly again in the second half. For 10 minutes they seemed to have found their rhythm but thereafter we reasserted ourselves and controlled the game. We created chances and controlled the game. Our play was smooth and continuous moving the ball around seamlessly. For once, there was no obvious weak-link (aside from Ospina). And once Moses was moronic enough to fall over in our box and Taylor was brave enough to give the second yellow card you knew the cup would most likely be ours. Conti has to answer for why he kept Moses on the field for so long though. He was shit in both halfs and should have been replaced earlier – though arguably this is true of their entire team. Where was Hazard?
Aside from their undeserved goal they barely had 2 shots on goal the entire game. Costa did not deserve to score and Ospina should be holding his head in shame at his pathetic attempt to wave at the ball with his right hand. He should be having nightmares as a result and that should also signal the end of his time with us.
But what a reaction. A response in 30 seconds. Though I understood why Welbeck had to go off I was not thrilled at the idea. But what a run and pass from Elephant man for the Ramsey to time his late run into the box to head in the winner. Fucking brilliant. Cue major celebrations to break out. Another tactical masterstroke from AW. Thereafter we still had more chances but we thoroughly deserved this win. Today, if that game was still being played we'd still be wining.
How can they take of Costa and bring on Batshitwhoever? How can they not put us under more pressure than that? Where were Chelski? Did both teams swap shirts before the game? They played like us and we played like them. If they played like that all season their manager would be the one being abused by their "fans". And, best of all, John Terry did not get any playing time. That's the last we'll see of that fucker – holding a losers medal. Perfect send off.
Today though was about us. How great was it to watch us completely out play them and out smart them tactically. Ramsey in this more forward position was more threatening and more incisive. He was quicker on the ball and quicker to get off it. Ozil glided all over the pitch was helped provide an outlet for Bellerin. Ozil was also doing the defensive work and fouling where necessary. Another classy performance from him. And Bellerin used the space created in front of him so well – so many chances came via him – and a few shots to boot (ha). On the other size Ox and Alexis both clearly struggling with injuries manfully exposed Moses and that side of the team. Alexis notching up another goal and working so hard the entire game.
Xhaka was perfect playing that lone defensive midfield player. Once or twice he got caught on the ball but he was instrumental in running and dictating the place. He has evolved into our Alonso. Some of his passing was spectacular. And that volley shot in the first half demonstrated great technique. Behind him Monreal was excellent letting nothing past. And when faced up with Hazard played him perfectly never allowing him to get past. Holding continues to improve. Some of his passes out of defense were outstanding. Again, like the foul on Coast in the second half and that time in the first when he let the ball bounce behind him that caused Ospina to save from Costa, makes growing mistakes but overall helps solidify that back three.
But my favourite player today and, possibly, the most important one was our own BFG. So calm and so reassuring in defense. Marshalling everyone around him, sliding in where required and always reading the game; his football IQ has to be off the charts. Not having played a full game for the entire season to come in today and play in such a commanding manner was a complete bonus. Mustafi should study that performance very carefully – not one mis-placed pass, no overly aggressive jumping into the tackle; just reading the game perfectly. BFG – the man of the match.
And how about our manager, eh? Perfect tactics. Playing Ramsey slightly further forward and selecting Welbeck over Elephant Man. Welbeck worked so hard today; chased everything and was disruptive to the Chelski back line. It's just a shame he can't take his chances.
I loved AW's comments pre-game. He, of course, was totally right. The retarded, moronic Arsenal fans that have been focusing on AW and not the team should, if they had any shame, should be embarrassed – not because of the result – but because they have been so destructive and petulant about our team. All of us have a right to be angry and pissed off with our wanky performances this year. But the level of abuse hurled at AW is out of all proportion. Last time I checked he'd not murdered anyone, invaded a country or stolen an election. He's always been working in the best interests of our club even when me makes bad decisions. And, given his longevity, deserves, if nothing else, respectful criticism. Not the personal, destructive and negative demolition of the manager. The time for that analysis was always going to be the end of the season. Not flying stupid fucking planes over stadiums when we're playing. A pox on all those fans.
But today is a happy day so I'll leave that topic for another day. Today we were excellent and a joy to watch. If only we had found our game a week or two early in the season. But find it we did. And, finally, in the final, we found a way to turn an essentially defensive formation with three at the back into our most fluent and dynamic performance in this new regime.
So it looks like we're on our way to MAGA – Making Arsenal Great Again. I love Wembley and I love the F. A. Cup. And Arsenal. Now that's a way to truly end a season.
Once I've returned to planet earth and we get more clarity on the big summer decision I'll write up more thoughts on MAGA and Arsenal.
Till then.
Back to my dream. We just won the Fucking F. A. Cup!
-LB7