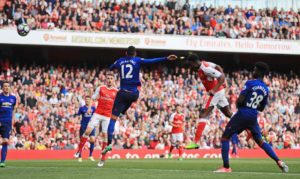 Finally, I can write a review. So welcome back to AA. Arsenal Anonymous. After last week's debacle, I'd been so drained of life that I could not face writing a review about the only team that turned up. My efforts at MAGA ("Make Arsenal Great Again") went up in smoke after only a week or so. So, I figured I should recalibrate expectations to MAAFTA ("Make Arsenal A Football Team Again"). And maybe I could enjoin the Great DT to negotiate the Best terms for a Good, Good deal.
Thankfully though, for today, there's an actual match to review and a team to actually dissect. This was a pleasant unexpected surprise. Not to say it was not warranted.
ManU and DarthVader set themselves up for the pity play. The largest sports franchise in the world with the worlds most expensive player influencing the media to feel oh so sorry for a team that has to play both in Europe and the Premier League at the same time. Shocking. They must be the first team to ever have to play in the league and Europe at the same time. Imagine that. Who knew? How hard for poor MU with all those injuries. Who knew there were 38 games in the league they'd have to play?  It's so unfair that the less wealthy teams are put into these situations.
Last time I checked Arsenal had more games to play (and have had) over the last few weeks – and we'd not spent more than the GDP of most third world countries on summer signings. So this does not explain how DarthVader set their team up. All defensive all the time. This felt like it would be a re-match of Bolton V Blackburn Rovers.
Except today we were not quite Bolton. And AR8 was not quite Aaron Ramsey. There I said it. And let me go further into unchartered territory – Ramsey played quite well today. OK, that's enough wild praise for one game. I'm starting to ponder whether AR8 is not quite as shit as I still think he is. Today we saw both sides. His defensive work is shabby and his distribution is poor. But when he gets into the final third he's the only one who makes those old Freddy runs. The realization hit that Ar8 is the Welsh equivalent of Swedish underwear stud – without the red hair. In the first half he induced a fine save from DerGear. And multiple times AR8 made key runs behind their defense and often into their box. Often times it was our CIC (Creator In Chief) the re-discovered Alexis who supplied the passes.
It was noticeable today that with Danny instead of the elephant man playing up front that we were more nimble and dynamic. Though I'm not convinced (even with the bullet header)  by DW23, it does allow Alexis more movement and freedom. Ozil – until we went 2-0 up – was fairly quiet and found it difficult to get into good positions to break down the Blackburn-like defense erected across the pitch. Even the Ox was limited to a few speculative shots. But behind him he has the boy Holding rather than BigEars. Aside from the sideways pass Holding made to their BigEars – who ten years ago would have scored – it's refreshing to see him play. Immediately after that fuck-up, in the same position he launched a left footed back pass to Cech – a great sign of no fear and natural ability.
In front of them alongside AR8 was the rebranded Xhaka. He now owns our midfield. Everything runs through him. He picks the ball up from our back 3 and defines our play. Often Alexis comes to him to receive the ball. Ozil has yet to figure out where we really fits in this new set up. But Xhaka clearly has. If only we had Santi alongside him. That would be a real platform.
In the first half nearly all our good moves came down the left hand side. Evidentially there was a match last Sunday. Anyway, in that game, Gibbs got pillared – unfairly I think. Today you saw more growth and development from him. He defends well – complements Monreal – and loves going forward. His crossing needs work but then he's not been playing regularly for the last 50 years. He needs time. Of course, after 50 games he'd still not get into anyone else's team. But he's all we've got currently and today he made good contributions – he was an asset.
The rejuvenated one aka The Ox again reveled in the attacking play down the right. He's not quite figured out how to link up with Holding. But the English side of the team shows promise. In the first half Holding played a defense splitting ball that Ox hesitated over. Often though Ox gets caught out defensively – he does not have the position acumen yet. Hopefully that will come because going forward he's an Electric Ox. Todays cross for the DW23 was reminiscent of the one for Monreal against the other Manchester lot.
So I'm still not convinced by this new formation. Against a better team (see last week) I would have worried. But today, against a poor poor ManU team we grew into the game and thoroughly deserved the win. The last three months have been traumatic. I've only been comforted by memories of the last 20 years and remain fearful of the next 20. But today we deserved to win, were clearly the better team and started to show some signs that we might be figuring out how to pass the ball to each other and create chances. After Ox provided that perfect cross for DW23 we seemed to find some swagger in our game. I don't want to support Bolton, West Brom or Stoke. I want to see us play football. It's not just all about the results. And at 2-0 up you could see some confidence find it's way back into the team. We had many more chances to add to the score while they only had a few chances. And then Koz was excellent at the back marshaling the defense. It was nice to see our Coq reappear in public and even more amusing to see him launch himself in front of a Rooney shot. But they barely tested Cech today. They really were poor. But maybe the best part of their performance was their managers interview. He was quite delightful in deflecting from the non-existent performance today. With players like Mata, Mika-whatever, Martial and their BigEars their fans had a right to expect more. But they had no game. And no intent to play. That is exactly the kind of team I would detest supporting. But nonetheless DarthVader manager to spin their performance into a thing of beauty and endless chances they failed to take.  I've said it before and I've said it again. What monumental wanker this guy is. He surely has the most toxic personality in all of football. A narcissistic prick. It's always about him. Remind you of anyone? If DarthVader and DT had a love child I do think though it would look like their Rooney – that would explain his ears and his voice.
Today I did not sit there in fear. It's very rare you'll come up against at top 6 team that is to abject (unless, that it, we played ourselves). After our two goals there was very little to be fearful of apart from our future – or lack of it. Even with the weekend results, it's destined that we'll miss out on the top 4 this year. We really have had to work hard to miss out. Liverpool have tried to help us as have City. We should admire their generosity but understand that we are just not worthy. Last Sunday proved that (if there was any doubt).
So enjoy todays result. Remember, it's Arsenal so we're bound to come crashing down to earth at Southampton. The 4-0 thrashing at their place is still fresh in my painful memory banks. All I ask for is not to be embarrassed. Conversely, if we were embarrassed maybe that would generate real change at AFC. However, with no football IQ to be found anywhere outside of AW it's pretty clear there is no-one at the board who knows the first thing about football. Rather than be focused on AW and his decision the future of this club is only at risk because of the negligence of our ownership and our CEO. It is their responsibility to plan for the future and put the necessary long term structures in place. Instead there is a void where leadership should be. I would not expect nor want to hear form the board during the season. I don't want to hear them discuss the AW situation in-season – even when we're going through our own implosion. I'm not interested in their words. It's their actions that count. So don't' get sidetrack by the bullshit you hear about AFC just focus on what actually changes. My money is still on no change at AFC. Two More years. Two More Years. ½ a DT term. Yikes.
So how do we MAGA? That, dear reader, requires more thought and consideration. In lieu of that let me leave you with my MAGA contributions:
Decapitate Tony Gayle
Cut out the tongue of Stewart Robson
Sign up Kate Upton in place of Theo. Start her as our naked right-winger. Instant pleasure.
Likewise with Jennifer Anniston. Instant improvement in team chemistry
Donate AR8 to a charity of anyones choice; throw in Sanogo (remember him) for the hell of it
Extend the contract of DarthVader at Man U for another ten years
Have Real Madrid sign as their new manager Potachino
When Brexit is finalized, leave EUFA and replace it with the Emirates Cup with auto qualification for us to the final
Introduce porno flicks in the away team changing rooms before games and at half-time
Bring back the original AFC crest (yes, I know this is a repeat but the best is worthy of restating).
Enjoy the glow of todays wonderful result and beware of Wednesday
-LB7