This summer has been somewhat challenging. Not because SMERSH/Spectre have succeeded in occupying both Downing Street and the White House at the same time. Not because it's Florida in Iceland and Morocco in London. Not even because PSG, a team owned and operated by a country, have raided their piggy-bank to waste the GDP of the four poorest countries in the world on a single player.
No, it's worse than that. I have come to the realization that my hatred and contempt for Sp*rs might be diminishing. This got me to thinking (hm, unlikely I know). Which teams in England do I hate the most? In the past that was a simple answer. It would be:
Sp*rs
Sp*rs Reserve Team
Sp*rs Ladies team (see #1)
But not so any more. How did this come to be? How can this be possible? Will the world now come to a crushing end? After much therapy it seemed only proper that I analyzed the situation to see what the rationale for this horrid state of affairs could be.
So, who would win the Cu*t Premiership League? Here's how the table looked come the end of the season: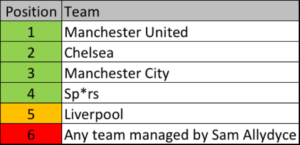 Missing the cut for qualification to the Cu*ts Champions League is Liverpool. Their manager should have been our next manager – once our glorious leader surpasses the reign of Elizabeth II. Their fans are pompous; they still hark back to the '70's and '80s when they genuinely dominated. And they think they are way better than they actually are. How I miss the days of Brendon Rogers. He was so wonderfully inept that alone would have kept them out of the top 5.
That team in #4 spot. How could they drop 3 spots?  Because they are now the mini-me of Arsenal except removed 15 years. How can you hate a team that wants to be just like you? Look at their ownership; compare Levy to Dein? Hard to see much difference. Then look at the manager. He's a mini-Wenger in training. If he stays there 15+ years he'll be the real thing. They have invigorated their youth policy and he's prompted younger players. The average age of the team is 12 ½. Their ground is too small so they are spending billions to expand the stadium to the size of Ashburton Grove + 1. Even their transfer policy sounds like ours of 10 years ago where we could not afford to pay players nor sign new ones because of the crushing debt of the new stadium. Even their excuses sound word for word what Fiszman, Gazidis and AW would say about how they only wanted to add someone of real quality and how there's so little value in the market. They are also on the cusp of running into the wages cap issue whereby their best players – in a year or two – will start to get poached because they'll be able to double or triple their wages; Walker is but the first example. Not quite Clichy but more a Nasri. And then there's their style of play now. High press, technical and very watchable. A team populated with some good players and some big noses. Add all this together and you can see they've modelled themselves on their superior local neighbor; they are now our younger brother trying to finally grow up. The by-product of which is that it makes them much harder to detest. They have a decent team playing good football with a manger who's smart and pending new stadium. Of course, their fans are still complete wankers. But you can't have everything. And none of the above means anyone actually likes them
Deciding between #2 and #3 is like deciding between being punched in the face or kicked in the balls. Who really cares? Both these teams are completely plastic. Prior to their infusion of money no-one, aside from a small number of loyal fans, gave two shits. Both teams had moments of success in the '60s and '70s. And both teams subsequently got related. Each were taken over by billionaires. Then, all of a sudden, they have hordes of loyal fans who knew nothing of these no-name, no-history teams. Man City, have demonstrated the willingness to waste more money on more players than any other team in England. it's where English players go to retire. i.e. Delph. Or Sterling. Look at the dross they sign from Spain. Navas? They have two entire teams in their squad. But they have no class. And when both sugar-daddys move one to other distractions, both clubs will revert back to their prior no-name status.
Chelski grab the #2 place purely based on the acidic combination of Abramovich, Terry and DarVader. And it's the latter that differentiates them. The most dreary team to win the league (prior to Conte, that is); the most toxic manager of all time and the worst advert for the Premier league.
But taking the #1 spot this year (and last) has to be ManU. The team that sold their soul to DarVader. The team that spends more money on overrated players and still manages to tarnish their reputation by playing the most boring football known to man. As irritating at Ferguson was his teams knew how to play attacking football. They buy Pogba, Henrick and Bailey and still fail to get in the top 4. So far they added Lukaku etc for another £150m. And, that fucking manager; the biggest dick in the entire premier league. He's now spent in excess of £350m on his team. And yet they are like his old Chelski team. Devoid of entertainment and based around the fear of losing. This club has lost any respect it had built over the last 60 years. Their manager is the devil; he is the antithesis of what we expect from the beautiful game. How could DarVader have grown up in the Barca system under the tutelage of Robson and with Cruyff still in the club.
So as much we have a rivalry with Sp*rs and are therefore contractually required to hate them, for the long-term good of football I find myself funneling the bulk of my anger and vitriol at the despicable red devils in the north. If only DarVaders fate could match that of Joffrey Baratheon; then the north could be saved by Jon Snow. Then, finally, the natural order can be reestablished and we can go back to hating those cu*ts at WHL.
-LB7