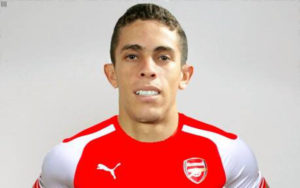 Ah, what a fine way to resume my commentary. After the wonders of the opening game and our powers of recovery today we came crashing down to earth.
This is not one to blame on Stoke. In all honesty – and mores the shame – I thought they were pretty tepid. The goal was well taken but it required 3 or four defensive mistakes for them to have the opportunity.
But let's wait on that thought. I really should have posted comments on the Leicester game. I had my chance but was fearful my glee would somehow influence todays game. Never again. From now on I commit to always post after matches reviews; except when I don't. There you have my commitment in writing. Or not.
Last week every move AW made worked perfectly. But this week? OMFG someone needs to bop him around his perfectly manicured hair. You can possibly think that if you need a goal and had to choose between Cigarette and Badbeck that the latter would be the right call. This boy had multiple chances to score today and fluffed his lines. I like him; we are close personal friends though I should note for the record it's entirely platonic. I have, until now, rebuffed all his advances. I have high ethical standards and I would not want any physical attachment to corrupt my view on Arsenal games. But how the fuck can you keep him on the pitch and not Cigarette? But then how could you also leave Bellend on the pitch. I would love to know what's happened to him in the last 12 months. Or maybe his early form was the unrepresentative period. Today he also had chances and could not take them. But worse than that as an ex-defender his tackling was, how do I say? Like a fucking pussy. Again, for clarity, I have nothing against pussys (cats, morons) – we here at BB&B are dog people – but really how weak can one ex-defender be. In the first half being out muscled in your own box? And always being outmuscled by the Stoke 6 ft+ defenders/wing-backs. He pulls out of tackles. Maybe it's because he's worried about dislodging his hair band. I hear that could leave him in hospitals for weeks.
So, why would AW leave two shit players (at least, shit on the day) on the pitch. And then take of the Bosnian/Serbian/Yugoslavian/Balkan Monster? Makes no sense.
Here's the thing. We can be a team that competes for the league with either of these players in our team. I know we have Alexis to come back (for one year) that should consign DW23 to the bench. Though someone will have to carefully direct him to said bench as he's very likely to miss it. But I fear Bellend might retain his spot. Someone needs to sit him down and discuss with him whether he wants to be a man – a professional football player – or a metro-sexual, sensitive cat person. In the meantime, he should not be starting.
To wrap-up the substitutes comments. Theo is a waste of space on the wing. There really I little point in him these days. He's outstanding and a real threat in pre-season but come the hour you can be sure he'll fluff his lines. He might not of today, because, like last week he was anonymous. At least OB1 tried to move things along. Of course, it forced AR8 back in a more defensive role which is exactly where he's not best suited. He's the rare player who makes late runs into the box. And when we need a goal we put him in a more defensive role? Makes no sense.
To continue in whining mode, what happened to Xhaka today? Specifically at the start of the second half. We had to suffer through his obligatory easy giveaways in the first half. But at the start of the second half not only does he under hit a pass to Ozil but then, like a bull in a china shop, pursues the ball and immediately pulls himself and AR8 out of position. It was that lack of defensive cover that exposed our back three. That is where this goal was created. All care of Xhaka. Of course Mustafi helped it along with a little guidance from Monreal. Mustafi has to close down Berohino and prevent that pass. But given that we'd demonstrated in the first half how incapable we were of scoring (thanks DW23) this was the classic Arsenal trying to win the ball back in the wrong area of the field by over-committing and then opening us up for that counterattack.
Too many players in this team are dead weight. The right hand side had both the two B's – Bellend and Badbeck. But we also had Mustafi. I know he'll not play when the BFG is back or when Koz finishes his suspension. But he's passing is plain awful. Sure, he's fully committed but that tackle in the second half on the edge of our box was reckless. Another ref could easily have sent him off – which, given the result and the 3 match ban – would have been ideal.
Think of this though, how dislocated is the transfer market when Mustafi cost us £35m and we then sell to the same team (Valencia) BigEars for only £10m? I'd take BigEars any day of the week and then invest the £25m in either a right-wingback, buying out Theo's contract or, my strong preference, buying a small Caribbean island and appointing myself Ruler, Overlord and Mighty King of said small Caribbean Island. Along with my own Sherpa, cook, housecleaner (i.e. my wife but minus my useless children – luckily none of them can read so they will be entirely unaware of my secret plans; if you're unfortunate enough to know them please tell squeal on me).
Thankfully we're only two games in. It's unlikely we can be this unlucky the entire season. There were two penalties we should have been awarded. And a clear goal from Cigarette; a perfect finish – the type BadBeck could only dream of assuming he did not miss the bed when going to lay down.   So on a normal day we'd have gotten at least a point. And we have Alexis to come back.
But we can't continue to give up the first goal. And next we go head up to Anfield. Sure, we can lose this one as well. But over the next few games we'll see whether we have learnt anything about how to play. We've been on a strong run so you can't go overboard on this lose. It's just so disappointing to give up 3 points to suck a lackluster team. And to do it so feebly.
On a more positive note, I thought Ozil glided and orchestrated our team today. He was pure class today and schooled Fletcher on a number of occasions. Ramsey put in a strong performance and was unlucky not to score. I still like the look of our new French Cigarette. As long as we don't have BadBeck making the same runs and encroaching on his space, I'm sure he'll score a bunch of goals. The Ox looked great going forward – but not so defensively. Monreal was solid in defense but is not a center-half. And the Bosnian Beast was more human today but still a strong addition.
So what happen after this game? We still have a few unmet needs. This squad is good but not good enough. There are still too many players who should never be in the starting eleven. Come of the bench (if you've not missed it) would be OK. So, that means we need a wing-back and a defensive midfield player. And now that BigEars has sadly gone, possibly, another defender. Given that the BFG is gone in a year I assume it will be a German defender. Without that we'll be below our required level of Nazis in the team to remain in Europe. We should snap up Lemar and pass on Gotze (even though he's a Kraut). We also have to dump Debuchy, Gibbs, Jenkinson and Perez. I'd also vote for consigning Theo to after match interviews and promoting Nelson. So, good-bye it is to BigEars. It's rare you come across such an ugly looking player; you'll be missed.
Apologizes for the long rant today. I can't cry today – it's too early in the season and it's important to pace out the disappointment we're inevitably going to feel in February. I'm surprised I'm not angrier. But I fear there's more trouble ahead of us unless we strengthen this team. We are close but not at the same level as Sp*rs, Manchester*2. Next week we'll find out how we stack up against the Cutinho missing lot; we just can't cave in up there. Sure, it's only game three but it will again demonstrate something about the soul of this team.
-LB7