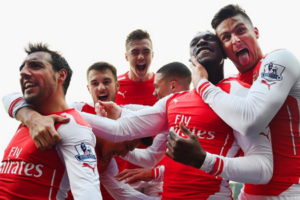 Following a much more standard premier league weekend, we are still in second, so life is still absolutely brilliant. Things looked much more back to normal compared to the previous weekend in which numerous outrageous goals were scored and numerous results went ways they usually wouldn't. Shit Spurs lost to a top class side in Villa, Manchester was red again, (not that anyone cares) and Chelsea won 1-0. Yet one result shifted a change from what seemed like a deeply embedded premier league norm, Arsenal 1-0 Burnley. The amount of games I watched growing up in which the Gooners would play graceful football for most of the game, be up a goal or two, and then continue on to collapse; giving up 2 or even 3 goal leads for fun due to the dedication to overall philosophy of beautiful, free flowing attacking football. The sadness and feeling of utter shock and disbelieve had stayed with me for years, lingering in the back of my mind during matches earlier in the season and season's prior.
However, this past weekend I felt nothing of the sort, rather, I felt confident and stayed composed throughout the 90 minutes Arsenal played at Burnley. We're a team that can now win games with different game plans, whether 3 points come from constant possession, counter attacking football, or sitting deeper, being defensively organized and pressuring as a unit. Yes, I did write that last line, and it couldn't have been more evident in the hard fought win this past weekend. People can talk about Arsene Wenger's tactics and personnel decisions all they want, but at the end of the day it is up to the player to bring the defensive shape, discipline, and desire; it is clear that this group of Arsenal players, led by Francis Coquelin destroying everyone and thing in his way, has slightly adjusted the culture of football at Arsenal.
Beautiful team oriented football is still the culture at Arsenal, but the shift is now in what happens once the lead is taken. While past teams would continue to push on after a one or two goal lead, desperate to play "Arsenal" football no matter the minute or place on the pitch, this team is starting to understand that there needs to be a balance between the finesse and creativity, and the grit and toughness. A lack of that balance can truly hinder a club's long-term success and more importantly culture which is clear from looking at all the Arsenal side's since 2006, and Chelsea Business Club. On one end of the spectrum you have the Gooners, who as stated before just didn't have the defensive mentality and discipline to close out games, but still were class due to their commitment to the beautiful game and attacking football. Then, you have the dark side in Mourinho who has built a culture at Chelsea of grinding out games that could be won 3-0 by utilizing the unbelievable tekkers of Hazard, Cuadrado, Willian Oscar and number 4; but end 1-0 with Mikel, Ramires and Matic's sideways passing and tackling taking center stage. The players in that locker room go out there to get results, not to play beautiful football. They go out there to win for Mourinho, not the fans. Mourinho has sucked the creativity out of Chelsea as a collective side, in favor of being an absolutely clinical, yet disgustingly boring and ugly team, whose game revolves around defensive shape and discipline.
Yes, Chelsea are top of the league and Arsenal are second, but Chelsea is developing a very rigid and dark culture on the pitch and within the locker room that will haunt them long term as it tears away at the creativity, innovation and true beauty on the pitch. Conversely, this group of Arsenal players is finding that balance of playing the beautiful game, coupled with ten-minute intervals of organized pressure, ball winning and grit.
"The run they are on is because they are doing things they don't like, but they do it for the team."  (Thierry Henry)
Yes, in order to be champions you must be able to grind out tough games in which you soak up pressure from the other team and are under constant siege. However, this is not a game about results, this is a game about beauty, heart and joy, and success comes as a result of those things, mixed with the right combination of grit and hard work. Results don't and shouldn't come from grit and hard work at the expense of joy heart and honor, if you're a team trying to be the best in the world, if you're a shit side like Q.P.R or Spurs, then that's a different story. Chelsea fans love to talk about how much better their Business club is compared to our Football club, and yes Chelsea have a better record, but it has been heinous to watch them get that record. We might have fewer points, but the joy that is shared between the players and supporters after every win is so pure and strong because it is centered on beautiful football that should breed results when mixed with the right amount of fight.
For those who beg the totally understandable question of, what's wrong with this? We're winning all these games, that's what matters. It's not how we play it's the points we get; we're going to be champions and your not.
That is not what football is about. You really think Zidane, Cruyff, Ronaldo, or Pele; players that won so many trophies, went out on the pitch thinking, all that matters is that we win regardless of how we do it. No fucking way. They went out there with the expectation above all else that they are going to enjoy playing, to play beautifully and please the fans. Going out there and focusing on just winning will long term destroy a player's creative because the thought of doing something crazy won't enter your mind, holding the lead at all cost will. Yeah it's great you win! But is football all about winning… absolutely not. It is an art that is meant to be shared between the players and supporters on a global scale, and when Chelsea plays like that, it is clear they are just winning for Mourinho, not the supporters and not for the good of football.
Football is adored for the magic and grace of the game.
Joga Bonito.
-DB10