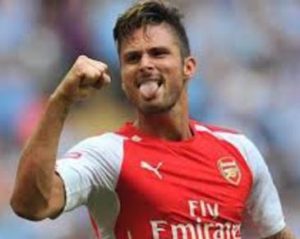 And now it begins
Rumours of the season starting last week were clearly misguided. It commenced today at Selhurt Park. Finally. And we're one man down as well. During the close season management decided that DB10 needed to be loaned out in order to increase his experience and exposure. We still have great hopes for him. The lad has a bright future (if not a wonderful collection of socks) but in the meantime LB7 will continue to shine a light on the darkness that remains Darth Vader (minus his medical team).
So, back to Selhurst Park. First game and rule number one was violated right out of the starting blocks. Girouds' first touch of the match was crap but he actually proceeded to have a very fine game. His goal was stunning. You should see him shuffling his feet like crazy as he position himself for his swan-like goal. Vaguely reminiscent of goal scored by that Turkesh-based skunk (who's already out of the Champions League te he).
The initial 20 minutes felt like a one way onslaught. SO much for Wenger not being able to get the team focused. We wanted changes – naturally – but basically ran them over. We were never going to keep a clean sheet but it's still worrying to not feel like our Cech is on his game. Many times he seemed to dither. And one has to wonder why he did not fully extend himself on Ward's shot. Hopefully it's just settling in pains. In the 2nd half his distribution was brought back memories of our Roma-based Pole-in-goal.
The Coq was, of course, massive. The card he received unwarranted but felt inevitable. Again, the quick move by Wenger to bring him off in the second half was smart and alert; shame Wenger does not manage games tactically 🙂 . Arteta was reasonably stabilizing when he came on – as was Chamberlin.
I would though have taken off Ramsey rather than Ozil. It seemed like Ramsey was still off his game. The flicks and backheels just seem off. His timing is not there. And some of his decision making is frustrating. He is part Giroud (deft touches) and Sanchez (direct attacking) but he's still secondary to Ozil. Ozils' one touch passing remains a master-class in simplicity and beauty. I'm pretty sure I should store this sentence as ill be linking to it throughout the season. But back to the Welshman. I would have yanked him. He's not quick enough nor solid enough to take over Coq's position. Notice in the second half when he shot on the turn over the bar after another counter-attacking move. Beautiful football but what the fuck was he doing up there in the first place. It was as though we'd forgotten the lessons of Swansea last year. He, understandably, can't curb his attacking instincts. I have no doubt Ramsey will come good after a few more games; he has too much energy and talent. But just not in that defensive holding position.
A few words about the hair that it's Arteta. Even though, at least once, he was caught attacking the ball too far upfield, to his credit, he did firm up our defense when he came on.
Bellerin was a helpful addition and Monreal settled down to help control Zaha. But only in an Arsenal team, winning away form home with 10 minutes left, would you find the left back attacking into the other teams penalty box.
I feel like the last words should be left to the hulking Frenchman. Aside from his outstanding goal, his work rate was good and distribution not too bad either. But, as the season progresses we are going to need another forward and someone to cover for our big Coq. We have two weeks to find out who they are.
It sucks balls that the Liverpool game is on Monday. I hate all Monday games. Why do the English feel like they need to schedule games like the NFL. It really does fuck the fans. But then the FA has never really concerned themselves with fans anyway. What the hell is a Liverpool fan supposed to do if they want to work (in their working class coalmines, brothels and other 3 world occupations) and attend the game? Madness to do this to supporters (even if they are northerners). Some day in the distance future when I rule the world all Premier League game will be played on the weekend
LB7