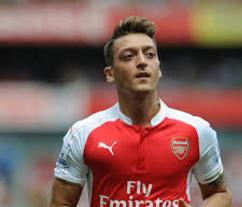 That was nearly as bad as going to the dentist. Expect that then I realized that Man City, Man U, Sp*rs and Chelski really did go there.
As wonderful as this league is it does seem that no-one (aside from Leicester) want to actually win it.
I keep reminding everyone that it's a long season; as sometime in the season you'll experience everything – a 5 game winning streak, a string of boring draws, a Mike Dean referred match and a long list of injuries. So it would seem like in the first half of the season we've found a way to tick all the boxes.
Having said all that, it was a painful match to watch. Yes, I'll take the 3 points but we'll find few other teams as passive as this Sunderland one – though, to be fair, they had their chances. From the initial Borini breakaway to a number of others in the second half. Though we outplayed them for long periods our team cohesion was lacking. The spacing between players was all wrong – often you'd see Ramsey and Flamini making the same moves for the ball. And ½ our defense seems to have lost their mojo. Bellerin look more like the version that came into the team last year. He's positional sense was off as was his defending. I think it was Kubol who went past him in the first half. Kubol! A center-half? Really?
And Mertersaker? What has happened to his judgment? I don't think it's news that he's not the fastest player on our team (shocker I know) but positionally he was caught out a few times but worse than that was his distribution – especially within our own box. I wish he'd just boot the fucking ball out some times.
But thankfully we had Koscielny. Another excellent game – dominant and incisive. He should not had gotten a yellow card; it was barely a foul. But, Giroud, who was more active in our own box as he was in theirs, scored a fine goal for them. If that had been up the other end there's no way he would have scored. I really struggle to understand this guy. He knows TW14 is on the bench but he still continues to stroll around the pitch like a French King (before they got beheaded). Does he score goals for us? Yes, of course, but he's link up play today was poor. His (second) goal was instinctive and vital – interestingly it was literally the same blade of grass from where he got his first goal.
Ramsey was also frustrating as well. Like the BFG he overelaborates in the wrong part of the pitch. Against better teams he will cost us. I know it was his first real game back but again, the judgment to try those little flicks and back heels on and around our penalty box has to be a major concern. To his credit, he got into a number of scoring positions, stayed involved in the game, worked really hard and, obviously, scored. He will get a run of games now so, as long as he can stay injury free, he'll have a chance to bed himself in – as long as he keeps in simple in and around our box.
Now, the best to last – Campbell and Ozil After his Norwich miss I was furious with Campbell. But today – like his previous game – he worked really hard, moved around the pitch well and, most importantly, scored a cool, well-taken goal. Noticeably the Ox was substituted before him today. I know it was Oxs' first game back but I was glad to see him off the pitch. Unlike Campbell, the Ox, continues to make poor decisions. He's another one that over complicates his game. Back to Joel though, it's good to see him working at his game and improving. There were a number of times when he lost the ball but continued to work back and put them under pressure.
We don't play Sunderland every week; we were lucky today. The score flattered us. We are a long long was from the team that dominated teams in October. We have to find that fluency. We need the second tier of our players to step up – Ox, Giroud,  – along with Ramsey and Bellerin. We only have one world class player now so everyone has to be on their game. But thankfully that world-class player (no not the BFG but the other Kraut) Ozil was sublime – he dominated the game in his normal quiet way. He's runs were so intelligent. His touch was perfect. On a number of occasions he beat his man with his first touch. He dribbled between players and could always pick out that killer pass. Once TW14 gets back to full fitness Ozil was shine even brighter. Unfortunately Giroud can't make those runs behind their defense that TW14 can (or even Campbell). But today he was the player that set us apart. It's a heavy burden that he'll carry for the next month but we just need him wrapped up in cotton wool until JW10 (remember him) can come back – as long as he does before MA8 does – then we'll still be able to stay close to the top. As long as everyone else can find ways to loose points (see, it's not just us) then we're with a chance. But we need to protect Ozil and get some coverage on Jan 1st. The Christmas sales can't come quickly enough.
– LB7