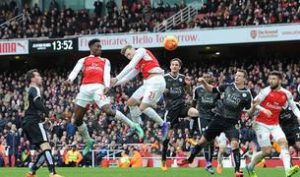 Happy Valentines day; a big, fat, very happy one. That was the best present any of us (including DB10) could have asked for.
Where to start? At the end I suppose. Unbelievable. In Fergie-time, we grab the points. By that time I was happy to have just the one. We had missed so many chances. But a reckless, unnecessary (dare I say, Flamini-esque) foul on Monreal set up Ozil for the perfect delivery and then the faintest of headers by our returning DW23. Welcome back Danny-boy.
We desperately needed three points so though I would have settled for 1 after their dubious penalty.  The truth is Schmichel did not have too many saves to make. I thought that Sanchez, while he tried ever so hard, just did not look like coming close to scoring today. And Ozil was below-par (until that last free-kick). He lost the ball in important areas and got closed-down quickly throughout the game. He was not able to assert himself and lost the ball in important areas. And when chances were presented to him he whiffed at them. As much as I see him as our creative soul, when he's slightly off we can struggle. Sanchez though just needs game to tune his scoring instincts.
Leicester looked impressive, surprisingly dangerous and Kanti looks like the find of the year. It was a fun match up between Konti and our Coq. The French really do know how to produce defensive midfield players. I assume there is a Mackele Defensive Midfield Academy somewhere in France. Coq, Kanti, Flamini, Schneiderlin, etc. Anyway, having the Coq back was critical for us today I'm sure withouth him we would not have recovered any points. And, also, we should acknowledge that Monreal was excellent against Mahrez.
Martin Atkinson. Mark Clattenberg. Two penalties in the title races of which neither was correct. Both critical decision and both clearly wrong (though the Sterling one was atrocious).  Vardy jumped into the challenge and "bought" the penalty. Of course, previously to that we has to ask what the hell was Koscielny doing just before that (very Mertesacker-like). But it was not a penalty; another poor decision by a referee, The linesman can help here but there was just no contact of Monreal to Vardy.
It could be that there was payback as thereafter Atkinson – in the second half –started to give calls our way. In the first half we got none and then in the second I think the home crowd got into him. Leicester lost their calm and Danny Simpson his brain. Two stupid fouls that were unnecessary. But for a shit ref like Atkinson, you roll the dice when you pull back players. Neither foul was really worthy of a yellow card but the player has to be aware of the state of the referee. But it that had happened to one of our players – getting sent off for two trivial fouls – I'd be going mental. But I thought Atkinsons' decision were shit all game. He let Kanti off with a talking to in the first half and yet booked the Coq for a similar foul. For once though, we were the beneficiaries of  a 11 v 10 situation. So one ex ManU player losses his head and gets himself sent off and changes the balance of the game whereas another ex ManU player uses his head to get us three points.
We started the game really well – on the front foot and aggressive. But naturally, we wasted our chances and made some poor decisions – I thought Ox should have pulled back some of his crosses. I'm not his biggest fan but I still think he's wasting his potential. He passes when he should shoot and visa-versa.  But as the first half wore on they got into the game. You could still see the problems we have in moving the ball out of the backfield. It was better with the Coq being there but too often it was left to Kos to distribute the ball. We found it more difficult to link up Ozil but when we did create chances it would come down our left hand side. The combination of Monreal, Sanchez and Ozil always produce opportunities.
After the penalty and before the Simpson brain-fart we worked hard but did not test the goalie – spurning chances and being just one step behind each other.  It was not clear how we would be able to score. But then TW14 stepped up. That was one well-taken goal. And what a substitution – Ox would never have scored from there. Thereafter it was all one-way traffic and though I never saw us going on to win the game we deserved the 3 points.
In the past I have bemoaned having Chambers on the field. But today, I thought he was outstanding when he came on; and note he was just behind Wellbeck when the header went in at the end. He was steady on the ball and dominating in the air. There was a little period in the middle of the second half where he was dribbling and tackling through three of their players. Today we seemed to lose all the second balls – especially Ozil – but Chambers did not lose one, alongside him the BFG was solid whereas Bellerin and Monreal were outstanding. Ramsey worked super hard and helped gel the team together.
And a final word for our manager. They say he can't make changes or effect games. Two substitutions and two goals. Six points off Leicester. Now that's what a manager does.
By the end I was going bonkers. I can't remember the last time we won a game with literally the last kick of the game.  Beautiful. What a wonderful Valentines day present.
– LB7