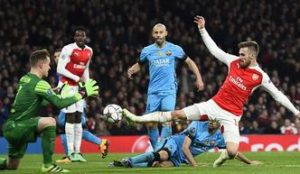 Watching this game was like standing in front of a firing squad as one by one the riflemen take a shot at you. You know what the final outcome will be, you just don't know who's pulling the trigger and when. So, as well as we tactically set ourselves up and as well as we handled them for 70+ minutes, the outcome was inevitable as night follows day or as Alves rolling on the floor in agony after someone blew on him.
So it's hard to be too upset. But rather, it's a case of resigned disappointment. Naturally, there were periods were Barcelona played us off the park. But, as with any game like this, there were opportunities for us. They are not infallible. But we were keen to prove that we are.
In particular, one of my favourites (spot the sarcasm) Chamberlin missed a priceless chance to score and, later on, with a fast break managed to lose control (and then get injured by fouling their little Liverpool-WestHam defender). In games of this quality, you have to have the composure to take the few chances that will come your way. It's not clear TW14 would have done much better – and the second half demonstrated why he'd not started the game – who knew, he can't defend!
Overall I thought we managed Barca pretty well in the first half. It was a pleasure to see us defend in such a well organized manner.  The part that was irritating though was that we could neither string a set of passes together nor did we win any of the second balls.
Our big picture problem though is on the big stage our two biggest players did not contribute commensurate with their importance to our team. Both Ozil and Sanchez were peripheral. More the case with Alexis. The sooner someone can remove the kryptonite from his boots the happier I'll be. Maybe when he went back to Chile someone swapped him with a squidgy, energizer bunny.
Our little picture problem was our BFG. He did this at Liverpool the season before last. For an intelligent player he sure is a dumb-ass at times. Because he, again, got caught pressing to high up the pitch (in their half) he exposed the entire defense and allowed them the chance to counter-attack and go 1-0 up. If Gabriel had been playing that would just not have happened.
And then Flamini. I suppose that was just bad luck. But typical. Before that we had a chance in the return leg. I know we have MU at the weekend and I also know that our Coq has only just returned. But, unfortunately, this is one of those instances where those people who hate AW (evidentially there are some out there) will highlight this as the reason we should have bought Schneiderlin.
On the positive side, Cech was again a star. Bellerin was outstanding. I also thought Monreal was excellent (though DB10 disagrees about his position for the first goal – but then LB7 is just plain old wrong).  Ramsey worked super-hard.  But he also missed out other golden opportunity. Giroud was mildly annoying. How can a center forward that's not scored in so long try flicks when he's inside the penalty area (in the first half) and then not link up with his team in other instances (his reverse pass to nowhere in the 2nd half).  Theo was pretty irrelevant when he came on. In retrospect we should have started Campbell.
Overall though, we did contain them (ex-BFG and our ecofriendly defensive midfielder) for large periods and we missed our (few) chances. But we also lacked the cohesion that we've lacked ever since Carzola got injured. As hard as the Coq and Ramsey worked, there just was not outlet, someone to control the mid-field. Until he returns we will remain a counter-attacking team.
Without sounding too defeatist, there is an argument that we did not need now to worry about the 2nd leg whereas we would have if it had stayed 0-1. And we did not waste any goals on Barca. So let's hope that the goal drought comes unplugged this Sunday. We need to find ways to score.
-LB7