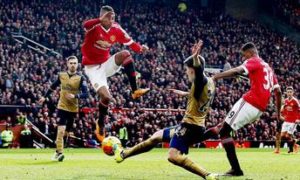 Bugger that. Fuck. And Double Fuck.
So deflating. So depressing. So that ends of our title chances. Not being able to beat a severely depleted MU team. How is this possible?.  I can't see any way we can recover from this. Loosing to Barcelona is one thing but to this MU team? I don't see how  this team has any chance of winning the league now. Our chance is gone. Sure mathematically we're still in it. But I have no faith in this team. We don't have the backbone, resiliency nor players to make it happen. And, I don't see the belief in the team either.
The team selection was appropriate. I was happy to see Big ears instead of the BFG. Likewise TW14 instead of Giroud. So, we had the right team out there. And – like the Barcelona – we dominated the first 20 minutes. And like that game we had an early chance. But it's hard to be as critical of Monreal.
The two goals we gave up in short succession were totally against the run of play. For the first one I would like to highlight the key role of the two players inserted into the team. Initially TW14 lost the ball in middle of the pitch and then Gabriel failed to clear the ball. For the second Gabriel again did not compete for the ball. Of course the third took a crazy deflection.
So the good news is we finally scored. Two goals in fact. FW23 was good for periods and at least he can score. And Ozil followed up neatly after a great De Gea save.
But how many chances did we create? How many saves did either goalie have to make? ManU pressed us high up the pitch and therefore it took a long time for Ozil to find his way into the game – but he did. Whereas Sanchez is still lost. He did a few decent things but at the end of the game how could he, inside their box, pass to Ramsey and not shoot? That is decision making of someone out of form and lacking in confidence.
Looking at our moves off the bench though, even when Giroud came on, how bland and ineffectual was he? I'm surprised he contributed so little – not the reaction you want from a demoted player.  For a French international, coming off the bench who should be fighting for his spot in the team, he was hardly noticeable. And Iwobi was useless. Could not keep the ball nor make any passes. But, I don't blame these two for our defeat.
It's hard to know where to point the finger. We had the right players on the pitch but they failed to deliver. Of course the balance in midfield was not right – as often stated – we miss Carzola so much. Of course, they were missing 15 players. The Coq was his destructive best.  And Ramsey worked tirelessly.  But they don't create enough and are too slow in passing the ball. When Elneny came on he picked up the pace of the game but of course can't tackle for shit.
For a team trying to win the league where were was the shots/headers raining in on their goal? Maybe I blinked? We had so little cutting edge.
As an aside, the referee today – Poulson – had an outstanding game. He could easily have chosen to send off Ramsey in the second half. Sure he missed a possible penalty in the dying seconds of the first half but I think that was a 50:50 one.  He's overall decisions were fair and kept the game under control. We can't complain about him.
So who can we complain about? I know – Fucking Useless Pointless Fucking Crap Theo. That's it. I'm done with him. Such a complete lightweight; a poseur. Waste of money and time. You just can't win the league with him (or Ox) in your team. Today, he was given a chance in one of the biggest games of the season and he just did not turn up. Absolutely awful performance. In fact he was hardly noticeable on the pitch. And, naturally, when he did get involved he managed to set-up their first goal. Dribbling out of defense in the center of the park, not knowing what to do with the ball he lost it with the first light challenge that came in. That then opened up the defense to the counter-attack. The thing that pisses me off (OK everything about him did today) is that he had no clue what he was doing with the ball in the first place. Her was clearly crowded out yet decided he could dribble though their players. Listen, this is a 26 year old International player – one of the "older statesmen" in our team. Yet this was all he did today. Beyond that he completely and utterly disappeared. In-fucking-visible. And he's just gotten his chance after the Leicester game.  And this is what he does. Fuck him. He's had 10 years at the club. And this morning – with the crazy mist in my head from this game – I can't see how he can really help us be the team we need to be.  It's time to call time on Theo. Today was a fucking disgrace. You can't afford to carry a player like this and be the best team in the league. Sure, he'll score against shit like Aston Villa and look like a super star. But today was far more representative of how fucking shit he can be. So, it's clear to me (finally) that we need to move Theo on. (Oh, I feel marginally better know but only marginally).
Now onto our defense. How do you make an 18 year old look so good? As previously mentioned I get why we did not play the BFG. I've been a big fan of BigEars but today also demonstrated that that might be a flawed option. He was lucky to get away with not conceding a penalty but he's overall defending was awful. The first goal was slightly deflected but the second one – as he's demonstrated before – where he stands, watches and does not attack the ball is the killer. He saw the man in front of him but did not challenge Rashford. I worry that this is not fixable. I'd believed up until today that he would be our future center-half. But now I don't see how that can be. Theo has had plenty of time but Big-Ears can't be given that time. We have two excellent full-backs, we have a brilliant goalie but we're one piece short of a real defense. And we don't have long to fix this because Koscielny only has a few more good years left in him so it's either got to be Chambers or a new addition. But that won't help us this year.
So, there's no way we can – or deserve to – win the league. No way we can win the UEFA Champions League. And, I don't really care about the F.A.Cup. Sure, it would be nice to win, but this year the League should have been ours. We have handed it to Leicester or Sp*rs. And we have to go there next week. I fear for our performance against them. Their tactics will be like ManU's but even more intense. They will mark Ozil super tight (Schneiderlin did not leave his side today) and then close us down aggressively all over the pitch. And the only way to counter-act that is to quickly move the ball around – which with Ramsey that will be hard. Not to blame or focus on him – that's just not his game. So I have very low expectations for next week end. I could possibly see a draw but there's no way we win at WHL. Maybe I'm just too upset and depressed to be rationale. But, even with DW23 scoring 2 goals in 2 EPL games I can just see us getting out muscled all over the park and not taking the few opportunities we have.
We can't progress without the real Sanchez returning. And we can't progress with Theo in the team.
And, of course, none of this explains how a team like Arsenal can lose to such a threadbare ManU team populated by such inexperienced players. This team of theirs was less experienced that their normal second team. But we found a way to create stars of them.
I just don't know where we go from here (aside from sinking into a deep depression). This should have been our season. But it's clearly not. There is something fundamentally wrong with the balance of this team.  And the character. Where's the soul and drive. They are so close but can't find ways to  turn up and win?  Fine if this was a real ManU team but it patently wasn't. This is the most disturbing and worrying. I fear this season could lead to the end of the road for AW. I've never said it before, and he's not to blame for todays performance. Sanchez is, Walcott is, Giroud is. Gabriel is. But, if we crumble so miserably as it looks, then I don't see how there's any way we can compete next year with a revitalized Chelski, Liverpool, Manchester City/United and that team we play next week.
Ah, what a happy Sunday this is!
– LB7