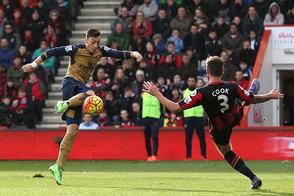 Now that's more like it. A solid, calm game without any histrionics or melodrama. My pulse barely shifted above resting the entire game.
I was disappointed that our Coq did not start; but maybe, on reflection, that was the right decision. But how fucking stupid is Flamini. On another day, with another referee (don't mention M. Dean) he could have been sent off for that two footed lunge in the first half. And shortly thereafter when Arter was moving down the left and just before he unleashed a shot that Cech tipped over, Flamini again went sliding to ground. The sooner our Coq has his fitness back the better. Though I did like – and prefer – Coq playing alongside Flamini. The Ramsey-Flamini aixs does not work. Too often, in the first half anyway, you see our center backs distributing the ball. When that happens you know we're in trouble. Kosclieny too often would be searching for a pass when no-one from midfield drops to receive the ball.
Two wonderful goals. As we've seen in the past with this team , they can struggle to score a goal but when they get one the second can quickly follows. The Ozil one was wonderful interplay whereas the Ox one was opportunistic. We needed both though to take the sting out of the game. Bournemouth clearly don't deserve to go down (there are way worse teams than them) but they lacked a cutting edge. I liked the fact that Gabriel played. He's still rusty and makes some poor decision but he has the speed to recover. Koz was solid today (aside form his distribution).
I still don't like the play of Ox. Mentally he just does not seem attuned to the flow of the game. He does not read where and how the game is progressing nor where the ball is likely to move to. He has speed and skill in abundance but can't harness it to instinct. He losses the ball in the middle of the pack in dangerous areas (though he's not the only one). If I was Campbell I'd have been disappointed not to have started (or come on as a sub). Of course Oxs' goal makes it look like a good decision.
Sanchez is still rusty but he clearly adds a spark we've been missing. And Ozil worked really hard (in addition to his goal).
Here's my worry though. I don't see how any team can win the EPL with both Flamini and Ox in the team (or even Walcott). They are too ineffectual and unreliable. I can't imagine and prey that both don't start against Leicester (and preferably neither).
Cech was outstanding today. Though his distribution was slightly off – there were a couple of times in the second half where he could have slowed the game down – the two back to back saves he made towards the end of the game were critical – and the reason why we are in the hunt this year. What a major difference this guy makes to the team (and, as I've mentioned before, but subtraction, how it hurt Chelski).
So, happy to finally score some goals and get the points but another disjointed performance. We were threatening on the quick break but lacked cohesion and passing in midfield. Playing away definitely helps us – we get more space and are pressed less high on the pitch. But I still feel we lack balance – it's that role that Carzola plays that knits the team together; where he receives the ball from the center backs to start up our play. But, we should not be too greedy, as we've got our Coq back.
So this surprising season continues. I had thought that Leicester were this years Southampton – destined to fade away in the last 1/3 rd of the season. But yesterdays victory at ManCity was very impressive. This was no undeserved, scrappy result. They were solid and organized giving ManCity little room in which to create chances. And, on the break, they were lightening fast. With Mahrez and Vardy orchestrating they were dangerous each time they broke up-field. In many way, like Arsenal, they can be more threatning when they platy away from home. When we play at home we're restricted in the last third of the pitch but away from home we've got more space. So, next Sunday will be fascinating. We won at their place because of our counter-attacking football. I just hope they don't repay the compliment.
And lastly, aside from being super lazy, I was nearly knocked out of my lazy slumber to respond to some of the utter drivel people have been writing about AW. Sure we've been on a tedious streak but all the criticism is so ill-informed. People with limited history of Arsenal who've grown up only knowing one manager. People who are quick to voice very strong opinions but forget their prior loud, definitive and passionate convictions – no trophy for x years (ops, that's two F. A. Cups now) – we never spend on world class players (Ozil and Snachez) – Ozil is a waste of money (duh!). The list goes on an on. Perople have a pre-defined agenda – they don't like AW. I get that. But they should like Arsenal FC and should not try to bring disruption while we're in the midst of multiple chances to win more silverware. BTW, name me one team that actually bought a player during the January transfer window that we should have bought? Exactly. Look at Chelski, with all their money they bought Pato! ManCity bought no-one of note. And Sp*rs are starting to worry about the cost of a new stadium.  Some state we should have picked-up additional players in the prior summer transfer window. For that, I have some sympathy. I firmly believe if we (1) did not have to play Arteta and (2) The Coq did not get injured, then we'd be top of the ELP already and galloping away at a fast canter.
Anyway, onto the big game next week.
-LB7