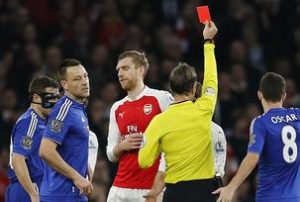 Bullshit. Fucking bullshit. Where to start? Let's be positive.
10-man Arsenal could easily have grabbed a point. We had chances. Flamini at the end of the first half. Mad scrambles in their area in the second half from a corner. More Flamini chances in the second half.
Also, some interesting decisions by AW.  Taking off Giroud was a surprise but I suspect, on balance, the right move.  Theo though just did not impose himself on the game. This is where TH14 falls short. Having said that he made a number of great runs in the first half. But in the second he faded out.
It was wonderful to see Alexis back. But just like when he returned from the Copa he looked rusty. But , as ever, he worked hard. It's great to have him back.
Campbell did not seem in the game so he it made sense to take him off. And of course he had a chance in the first half that he – unlike against Sunderland – could not convert. He's place will now be in doubt as others return.
Ozil and Ramsey looked below par today. Ozil's passes were just a little off. Again, he did not assert himself. And Ramsey, who still works hard, gave the ball away. But he also worked himself into the ground.
Our fullbacks were great as was our goalie. But, the center of our defense? Koschlney should have done better with their goal and could have been responsible for a penalty on Fabregas in the 2nd half.  Klattenberg could easily have given one against us. If he had not have sent off BFG, maybe he would have.
As for the sending off – which, obviously, changed the entire game – we should first look further up field to see how we lost the ball and how that exposed the back line.  However, if you watch the replays you'll see a couple of things. Firstly, that Mertesacker takes a few steps forward towards the play and that allows DeadCosta some space behind him.  Next, post the traumatic tumble that DeadCosta took, you'll see that Klatenberg initially moves his hands to pull out the yellow card from his back pocket and then, for some reason, changes his mind and goes for red instead. Of course it's tough for a ref in real-time to make these decision but after looking at all the replays I don't see where DeadCosta is actually touched. But that does not justify BFG positional play nor his decision to make that sliding tackle.
What is it about us and Chelski and keeping all our players on the pitch? I'd swear that in a 11 v 11 game we'd beat them. I was surprised how passive they were today when we went down to 10 men. We had chances – maybe not such clear cut ones – and we fought quite hard. It's hard to be too critical of the team. Nor of AW's changes. It's just hugely frustrating. Chelski were there for the taking but one decision influenced the entire game. How can you win the league and also drop SIX points against this shit Chelski team?
It's hard to get too angry about todays result given the circumstances but we're third now. And just 2 points from the last three games. Sp*rs look like they are playing really well. And Leicester refuse to implode. We have some tough fixtures coming up – playing at WHL, Old Trafford  – but we seem to be close to bringing back some of our key players.  We need our Coq. And Alexis needs a few games to get back into his stride. I don't like BFG being forced to the stands for 3 games but I do like the idea of Gabriel (he of the humungous ears) getting a run of games. He has the recovery pace that BFG so clearly lacks (breaking news that). I would have played him today instead of BFG but I get that BGF brings experience and calmness – however, this transition needs to happen soon anyway. But Kolschelny needs to stay focused and tuned in (unlike today) to stabilize the defense.
This year is the year when we should be wining the BPL. Everyone is dropping points. Liverpool and Chelsea can't be this bad next year.  But we have to have that drive to win. I don't quite feel it myself.
Maybe with our Coq back along with Carzola we will feel more confident but that's a month away. There are too many points to play for before then.
I hope this weekend, against Burnley, Alexis plays as does Elneny. I would like to see how he could help us as opposed to Flamini. Today, a more composed player could have given us some points.
– LB7