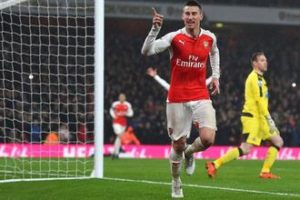 That's how to start a new year.  Play like shit and get three points.
It's been a while since I've had a chance to write anything. So I apologize to my reader(s) for the lack of insight and tactical expertise for the recent string of games. All I can say – and I'm restricted by confidentiality agreements – is that I've been actively working on securing a midfield player (he of the multiple broken left and right foots) and another goalkeeper (Rogain-man). Additionally I continue to work on climate change issues along with world-hunger. Busy times indeed.
So dear reader, happy new year and welcome to the year of the trophy. Good times await.
Anyway, ever since we lost our Coq and our Santi (not to mention Sanchez) I knew there would be games where we missed their vital contributions. And today was that day (of course, the same could be said for the Southampton game – though that was last year so it's history already). Turgid, painful and lacking in creativity.
Somehow we managed to beat Man City. Aston Villa were appalling and Bournemouth were unlucky. It's clear the balance in the team is not there. Though not surprising it's still difficult to watch.
What was noticeable was the ineffectiveness of Ramsey until he moved further up field. His partnership with Flamini was over-run today by Newcastle. Even though they have that Wally-with-the-Brolly as their manager, we should have some sympathy for them. They outplayed us for large periods in the first half and dominated from the start of the second half. They had a number of clear chances – I've not checked the stats but I'd guess they had more shots than we did and I'm sure Cech had more (important) saves to make.
Why was this? Sure we're tired. But Newcastle have played the same number of games – they are in a relegation battle and we're trying to win a title. I suppose it comes down to rotation of the squad. With all our injuries it's tough to give players a rest. Ramsey and Ozil looked knacked today. Ozil, of course, was still sublime but even he missed some passes. We need some re-enforcements. I liked the look of Chambers the other game (now, that's not something I ever thought I'd say) and we improved once Ox went off. That boy is really wasting his window of opportunity. I might have said this already but it's though he's morphed into Theo of a few years ago – all speed and terrible decisions. Ok, maybe he was a little better today but for all the ability he's displayed over the last 3 or 4 years he just seems to be going backwards. I often wonder whether Theo and Ox have swapped bodies (trust me, I have weirder thoughts). Anyway, for me, Campbell should be starting ahead of Ox now. Ox has had a number of games and I don't see any progress.
Flamini had one game to rest but today I thought he was lucky to stay on the pitch. Some of his challenges look kamakazi-like. One in particular in the second half – when he went in with his foot about head height really deserved a red-card rather than a yellow. After all these years he still jumps into wild tackles all too often. Of course, at least he tackles. Ramsey didn't make any. This is why Newcastle dominated the game. Ramsey is nearly always behind (i.e. not goal-side) of the man he should be tracking – he's recovery effort was lacking; a better team would have exploited that. But I think part of it is that he's not a natural defensive midfielder. He'd be a better player with The Coq alongside him. I should also note that I've never seen TH14 go into tackles as strongly as he did today – lovely to see.
Bellerin has still not rediscovered he's early season form. There was a greater tendency to attack the space in front of him and to be more aggressive but his crossing today was horrendous.  And Monreal had one of his worst games in a while – some of it was because he had the Ox in front of him and often out of position (did I mention that I don't like Ox?). But thankfully we had Koscielny at the back along with Cech. These are about the only two that had their usual games.
But, we got the three points! Now buy me a midfield player (one without a history of Jones fractures, please) and rotate the squad for the F.A.Cup in order to rest our important players; the tough games (Liverpool etc) are just around the corner. Hopefully we'll have Alexis back by then and the Oc can be buried deep on our bench.
– LB7