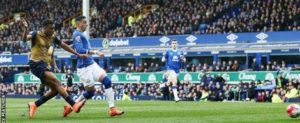 Goodies at Goodison.
What was that I spotted? 3 points. A win? What the fuck is that? When was the last time we saw one of those? I think Leicester. Funny how the "best" team in the league has only lost 3 games but two of those were to us. Funny how the narrative on Arsenal over the years has been that we can't get any points off the top 5 teams – that we collapse under the pressure of the big game.  How we fold and bottle it when we play the big teams. So, it's odd to look at this year and see that we beat Leicester twice, shared the points with ManU, beat ManCity, took 4 points from Liverpool. shared the points with Sp*rs. But it's against the teams outside the top tier that we've suffered this year. Not that we need reminding (but let me) – West Brom (thank you Arteta), Swansea, Southampton and Chelski (ha ha). So, an away game versus Everton was sure to be a test for us given the streak we've been on.
Like others I was surprised not to see Campbell in the starting line-up. But equally glad not to see Giroud or TW14. Seems as though Theo is now the designated talker. There to appease the media with pithy statements about how the team is committed and focused etc. He has more platitudes than goals scored.
From the offset it was strange that the home crowd were not behind their team. The usual intense crowd involvement was not there. Maybe their not so behind their team (sounds familiar). Anyway, after the first 2 minutes, it then allowed us to get settled into the game. And then we're 2 nil up before half-time. Without Barry to foul us they looked shorn of leadership. There was only one real period where they applied any pressure – immediately after Lukaku collided with Ospina. Though I have little faith in this team – we know that we have the ability to snatch defeat from the jaws of defeat – we found a way to hang on.
Why? Luck? Or tactics? Or team selection? A combination of all. Lucky that Barkley and Lukaku were quiet. Lucky that they had no passion or drive. But the idea of switching Alexis to the right side and playing O-b-one was vindicated with the first goal – which was a beautiful example of controlled football and incisive passing by both Ozil and Alexis. Alexis? 25% of the way back to the real-thing. And then playing BigEars rather than the BFG; another good selection. As exposed as he was against Watford he was as in command today. Maybe presenting him with a strong, athletic, forceful forward helped focus him on the need to be concentrate for the entire game. Aside from the luck from another one of his skied clearances going out for a corner, BigEars was a very strong physical presence today. And we needed his speed on a number of occasions.
However, the one positive sign of progress (yes, I know – hard given all these defeats and dropped points) was the platform provided by our Coq and our Egyptian. Without Ramsey there, this partnership is much more stable and balanced. Sure Elelny still can't quite tackle but Coq can take care of that. But his passing complements that physicality.  We saw signs against Sp*rs and today we saw an effective shield for our defense and also the ability to spring into attack. Maybe we don't need Santi (ha ha). But, when playing away against decent teams, this protection helps us absorb pressure and reduces the exposure of the back four. Today it worked perfectly.
So, we figured out how not to concede. But our problem has been the lack of scoring. Removing Giroud from the line-up was also vindicated. There is no way on the planet earth that Giroud could have scored that first goal. DW23 took it perfectly. It required movement and speed. Both of which our #12 lacks. And then when he came on this was borne out by at least two breakaways where his lack of pace restricted his (and our) options – and he lost the ball. So it seems clear to me that both our forwards for the start of the year are beyond hope now – Giroud and TH14 are both peripheral. They are bench players – but no more than that. Neither can hold a starting place. And AW knows this. I like Giroud – who can forget that goal at Liverpool this year – but he's a B+ player. And we need more than that. As for TH14 – a fine spokesperson role awaits him.
I should have really enjoyed today. But I keep waiting for the other shoe to drop. Keep waiting for us to implode again.  And I also hate the negativity coming from a section of our fans (yes, I am aware of the contradiction and hypocrisy of this statement). But we've brought this on ourselves. The only solution is to win and win again.
A word for the referee – wanker. He did not book anyone – was he not watching Coleman? And her missed two penalties – The Alexis one and then when Giroud was taken out off the ball. And then he disallowed Giroud's header.
Does this score make me an optimist now? No, I still look down more than up. Still more worried about ManU/WHU than I worry about Leicester or Sp*rs.. I wait for our next fuck-up. Maybe the answer is to play all our remaining games away. At home we have less space and find it harder to counter-attack.
So, this is the year of inversion. Leicester and Chelski inverted in positions. And we can't beat the shit teams but can get points from the top 5. And a defense that is reasonable (assuming Cech is playing) but a forward line that can't score to save it's life.
Now we're off for 2 weeks of stupid nothiningness when these stupid international games yet again interrupt the meaty part of the season.  But it does give us time to nurse some players back. In particular Cech.
And then, we'll let the pain continue.
– LB7