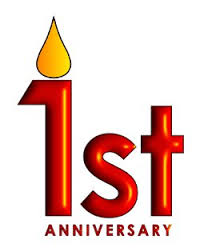 One year ago this site was launched. So, happy anniversary from both LB7 and DB10.
In this span of time we've picked up a massive following. Globally, we are now ranked amongst the top Arsenal sites in my imagination. This site can be proud that this is the place that informed, intelligent people turn to for the most in depth, analytical and current Arsenal opinions. I mean, I regularly read what I write here.
So, overall, it's pretty impressive when you consider the scope of this blog versus the impact it's had on mankind. I'm sure when the history books look back at this period in time, this site will be seen as the defining thought leader in my head.
What has happened over the last year?
A king is trying to be king in a country without a king.
Another king is on his way to being disrobed in our kingdom.
I fear in another year we could well be ruing the departure of our king. Lets hope we don't also have to deal with the other idiot being king in the land of the free.
But the biggest change has been the reset on our goalie. Moving southwards across Europe we replaced a Pole with a Cech. This should give us 3 or 4 more years of genuine stability for our defense. Allied with the rise of Hector (slightly more than a year I know), the addition of Big Ears and our new Egyptian friend.
We've also witnessed the decline of our core English group. Jack hanging out in the treatment room; Theo becoming our intelligent spokesman and Ox doing his best impersonation of Theo on the pitch. I see us just retaining Ramsey next year. Along with DW23 as well. And, hopefully, we'll also see the end of Giroud.
But we had the pleasure of an F.A. Cup victory. Marvelous day out that.; expensive but fun. And, at least this year, we saved money by finding a way to lose to Watford.
And, more notably (I think not) we also won the Community Shield (crowd breaks out in wild abandon).
What has not changed in the last year is the spelling and grammar. We need Word to fix that.
And what can we expect from the next year?
Well, our business plan calls for a more than doubling of our viewership to be shortly followed by a successful IPO. As long as we can find 2 sad fuckers to read this blog we should be well on track.
On the field I'd hope we finally find a real striker to complement our creativity. We'll also  be looking for more defensive coverage for our BFG. And, chances are we'll be operating under new management. Even if that's not the case, next year will be AW's last. I remain ambivalent. Post ManU and Swansea it seemed the only course of action. But the more I hear our own fans bleat the more I find myself reverting back to sticking with what we have. But the summer signings will be a big determinator as to how this plays out. And with the Euros as well that usually means we'll make our moves late in the summer. Of course, this all assumed we make the top 4 – by no means certain.  If we fall out the top 4 then I don't see how our king survives.
So, happy anniversary and long live the king
– LB7