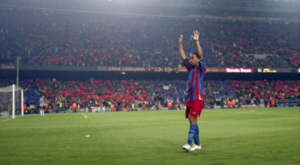 Magician, Artist, Wizard, Superhero, are just some of the titles that could describe the samba king Ronaldinho. Universally adored for his technique and dribbling ability, he was so brilliant in his prime (2004-7). However it didn't last long enough, as a result of Williams Gallas, coached by the evil Mourinho at the time, breaking Ronaldinho's leg. He fell out of the limelight so quickly, that I'm worried moving forward into the next generation of soccer stars past Messi and Ronaldo, once those two go down as legends, Ronaldinho might not be remembered as much as he should.
The genius Brazil and Barcelona number 10 racked up the goals and assists during his prime. The thing was though he was so much more than a dazzling footballer player. Ronaldinho stood for Joga Bonito, a Portuguese phrase soccer fanatics of the mid 2000's will be familiar with immediately, which translates to "play beautifully." Joga Bonito represented a style of play that valued touch, vision, creativity, freedom and joy. Those who symbolized Joga Bonito were artists on the pitch, daring to try new skill moves, gliding by their opponents and playing football the right way. As the culture of Joga bonito continued to grow through the 2000's on the pitch it rapidly grow off it, with Nike producing numerous ridiculous Joga Bonito commercials with Eric Cantona as the founder and Ronaldinho as the face of the group of footballers who played this way. In the inaugural commercial, Cantona interrupts German news broadcast for a crucial message,
"Mes Amis Footballers! For too long we let liars and cheaters make a fool of the game. Enough! I am here to remind the world that this game is about skills, heart, honour, joy, team spirit."

"Mes amis. I need your help, your hearts and your feet. Together, me and you, we can make it beautiful again. Beautiful! So step forward, my brothers in football and join us. Play beautiful. This is just the beginning. Watch this space."

Ronaldinho epitomized this free flowing care free style of play better than anyone, lighting up the Nou Camp on a weekly basis with magical performances leading to him winning the Fifa World player of the year award in 2004 and 2005. It wasn't just that he would play no look passes, dribble by numerous defenders and rifle shots into the top corner, it was the manner in which he did it. A smile beaming on his face each game, he had true passion in his game there was always hope when Ronaldinho had the ball, hope from the home fans, hope that a goal or assist could come out of nothing, and for neutrals and even for fans of the opposing team, hope to see a beautiful piece of skill. Ronaldinho consistently contributed to the overall atmosphere of each stadium he played in. He earned the respect of every fan regardless of team allegiance because be played happy and free that he would remind fans of what the beautiful game really is; he was an inspiration to fans, players and coaches alike, reminding those around him each day why they love football so much by way of his play. There was elegance and grace to his play, shredding your idea of what was possible on a football pitch each week.
Football is often talked of as an art form that brings people together; Ronaldinho did just that by establishing happiness and creativity as the main components of Joga Bonito. A great example of Ronaldinho's impact on and off the field was Barcelona's 3-0 away in El Clasico during the 2004-05 season. After scoring a brace and leading his team to victory with a truly legendary performance against a Madrid team with Zidane, Ronaldo, Figo and Beckham, Ronaldinho received a standing applause from all the Madrid fans as well as the Barcelona ones. Despite the fact that their team had just got destroyed, The Madrid fans couldn't help but heap the praise on the inspirational Ronaldinho, as they had just witness beauty on the canvas that is the pitch. I recently spoke to a close friend who is a Real Madrid fan and after asking him about Ronaldinho's performance in that game he said,
"As a Real Madrid fan I wanted to hate him so much but I couldn't, he had just come to the Bernabeu and thrash my idols, but I loved his happiness and what he represented, it was impossible to root against him as a fan of soccer."
Ronaldinho's skills and fancy tricks weren't seen as showboating like some players today, because his moves are seen as expressive culture, they're representative of the beautiful game. For his opponents he played at a torrid pace, but for him, the game couldn't be slower; his moves were so complicated yet looked so simple for him, it was genuinely natural football.
As Ronaldinho tore past teams he continued to be the face of Joga Bonito, however after his injury and Brazil's fall from grace on the international scene, the culture of Joga Bonito began to fade, with other prevalent players within the group reaching the twilight period of their career, like Thierry Henry, Kaka and the original Ronaldo. Currently, there is only one player who still exemplifies the Joga Bonito style, Brazil's talisman Neymar. This is why Neymar is so beloved by Brazil and world fans alike; he is the only Brazil player to play creative, daring, and joyful football at a class level. Neymar, as the last true connection to Ronaldinho, I am begging you to teach some of your tekkers to the youngsters on the Brazil team. Finally, I chose not to discuss any of Ronaldinho's stats and team trophies he won because while he excelled in both of those categories, his play wasn't about getting results, it was about expressing yourself on the pitch, and playing like a kid full of passion and happiness.
Never Grow up
Dare to Ronaldinho
-DB10