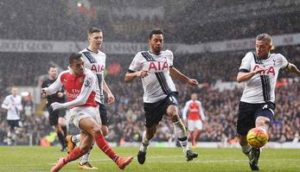 It's hard to know whether to be disappointed or relieved. At 1 nil up I thought we'd weathered the storm and could still take the points. Though they played some decent football and pressed us very high up the pitch (in fact all over the pitch) it felt like we could nab the points.
Then our Coq went Flamini-like on us. Reckless and unnecessary tackle in a part of the pitch where their masked Butman was going nowhere. Then we gave them the obligatory back-post goal form a corner and all hell broke loose. Obviously a draw at 1 -1 with 10 men would have been a decent outcome but then Butman scores a crazy goal. A Swansea/ManU midst then descends and it feels like deja-vu all over again. Loosing 2-1 to that lot. But today we found a little bit of drive and determination and pulled one back. And could have stolen it at the end if Ramsey had not dithered so much in the box – classic Aaron actually, just like in the rest of the pitch, taking that extra touch. It's either a back-heel flick or one two many touches.
So, at the end of it all, a big release of tension and fear. Today could have been a disaster. So I'm somewhat relived that we survived. From their perspective, being 2-1 up at home – after losing their last game – and playing against 10 men they have to be upset and disappointed. I hope so. Their fans must be super pissed off – I hope so. If you can't extract enjoyment from other peoples misery what's the point of being a football fan?
For the first 20 minutes we weathered the storm but could not retain the ball. But we worked hard. We had the odd chance. Welbeck had one chance in the first half but his touch let him down. Then the goal – somewhat against the run of play. But that also seemed to settle us down and allow us to pass the ball around a bit. Alexis is still way off his game but that's no surprise. What was a surprise though was the team selection. As super-upset I've been with our master, his selection today was spot on. I would not have expected Gibbs to play but was impressed he started with DW23. Great choice. That additional speed up front helped push them back. He got little support but DW23 is like a cross between Giroud and Theo –but the best parts – faster but can hold the ball up. Again, this just reinforces that neither of them are of the required caliber and can't be part of our team going forward. And I was happy to see Campbell come on prior to Theo – hopefully that's the pecking order now. They've both had their opportunities. As fed up as I am with AW it barely compares to these two.
The next selection surprise was Elneny. I did not see that coming either. However, this is also recognition that the Coq-Ramsey axis is just not working for us. The balance was much better with Coq-Elneny. Though he's not as physical at Coq he reads the game well and gets off the ball very quick. There were a few instances where he was able to feed other players from tight situations with a single touch. Of course, he still gets out muscled but I could have sworn I did see him win a header. Whether he's a natural defensive midfield player is unclear. But the balance with the two of them was better. And it liberated Ramsey – he pushed forward much more today and scored a delightful goal. I hope it does not encourage him to flick and back-heel the ball even more than he does. Ramsey had his normal energy and drive and was quite effective today. And Elneny links up our play much better. A good sign was that there were much fewer times when the BFG had to distribute the ball. BTW, how effective was he today? Much better. His reading of the game was outstanding today – it nearly offsets the fact that a snail is faster. And Big Ears nearly scored a perfect own-goal today. He skirts the line between aggression and stupidity. But today he was pretty effective. I couldn't really seem them actually scoring (until they did L)
The formation AW deployed – much more like a 4-5-1 – helped a lot and we played counter-attacking football – not something we can do when we're at home. I suspect if we had been playing at home we'd have lost. The team is more relaxed away from home and there is more space for them. As the game progressed we started to play the ball around better. Even after Coqs ill-judged tackle. A fine example of how to play with a yellow-card was provided by Bellerin. One yellow and two assists. Not bad. And he had to deal with that snarling left back of theirs. In fact he was our best player today.  We should also give a little credit to our diminutive Columbian. It must be a challenge both being a goalie for us and a drug runner. Isn't that what all Columbians do? Some vital saves from close range kept us in the game and he could not be faulted for either goal. He's obviously not as steady as the Cech but he's way better than the Pole.
And finally, back to our master. The one I eviscerated mid-week. His tactics today were spot on and can consider himself unlucky not to take 3 points (even if we weren't the better team). Overall our performance was much better. If we'd have played like this at Old Trafford we'd not have lost. Likewise midweek. If we can stick with the Coq-Elneny pairing then we might be able to progress (till Carzola returns).
I'm still not convinced about this team. It feels like the next disaster is just around the corner.  And I'm not confident that we'll make the top 4 either. The title is gone –I've made peace with that. But I can see us finding way to tumble below 4th place. If that happens AW is gone. In the cold light of day post-Swansea, I'm not sure I'm quite ready for that type of abject failure.
I'm just relived this week is finally over. I can breath again.
– LB7