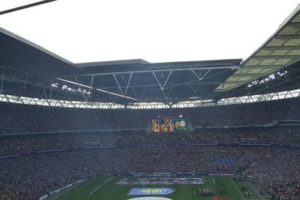 Now that's what I call a day out. No stress and all pleasure. They say the F. A. Cup does not mean anything. They are right except when Arsenal are in the final. All other times I'm disinterested in the side show. But, for some reason, for the last 2 years I've been interested. And what a contrast. Last year, due to legal obligations, I was unable to attend. But this year my legal team was able to secure me time off for good behaviour. And I'm grateful that it was this year not last.
How sumptuous was Ozil? I get it that the focus will be on Santi, Alexis etc but how beautiful is it to watch Ozil move the ball. It is effortless for him only because he sees the game ahead (and behind) him. He's like Neo in The Matrix where everything slows down. It's so much clearer at the match rather than on TV. I'd also forgotten how much better it is live than on the couch – no stupid camera shots of some fat, spotty kid in the stands nor having having to stare at the freckles on the face of either manager.
And The Coq. My, hasn't he got bigger as the season has gone on. Calm and cool but so reliable, Again, seeing the whole pitch allows you too see his positional play in anticipation of an interception or tackle. Of course that was a foul on Agbon-la-whore but given that AV had fouled our entire team before the ref booked any of them, it's the least they deserved.
These two were just outstanding. A joy to watch. But then the entire game was. The movement, interchanges and chances we created. They (and I suspect most teams) could not live with us.
Theo was not as mobile as he should have been – often times too static. But when he moves he makes things happen. Hutton remains  a balding, Scotish thug (a description that couple apply to all Scotsman) – once he picked up his yellow card he returned into his shell.
What a beautiful left foot strike Theo! Everyone went nuts. As they should. Up until then the fear was we'd squander our chances and then, with that Pole in the hole, we'd let their one chance go in. But that never happened due to the Theo rocket. What a vindication of AW's selection.
Thereafter it not only remained one way traffic but it mades for a rather relaxing afternoon. There are not too many times in life when you can sit back and enjoy nearly 70 minutes of Cup Final football without having to stress over the outcome. But even though we were going to go on and win it was not until Alexis stepped up that it became certain. And what a strike. Breathtaking. An act of pure talent. Shocking to see up close (well from the other end of the stadium). I'd guess this was, for the entire game, our one and only shot from outside the box. Curving, swerving and dipping. Unstoppable by any goalie. Stunning. Cue mayhem and madness in the stands. Game over.
How much fun is though to watch us dismember the opposition and play the type of football that others would (and should) die for. This was AFC at it's best. On the big stage asserting themselves. No nerves and all flowing football. What a pleasure to watch. It's not just about the result but how you play (take note CBC). Pride comes from not just acquiring trophies but how you do so. It's not just what the score is it's how you score. Otherwise it's not entertainment. And this was pure entertaiment.
So, two trophies in two years. Where are all those retards now complaining about AW? Silent until he stumbles. How's that supporting a team?  For whatever reason, he's decisions this year have been peerless. Forget Darth-Vader, this guy is the personification of how the game should be played. From the selection of Bellerin, recall of the Coq to the positioning of Ozil – he's been imperious this year. So, where's the accountability for those retards demanding his removal? Exactly.
And what's up with Villa? If only Sherwood could have remained manager of Sp*rs. And they say we need more English managers. Not like this we don't. All hot air and passion – but no tactics nor organization. From the first minute we sliced through them.
I was surprised that the Pole was in goal. Though he had little to do it managed to do it with little conviction. I remain wholly unconvinced by his decision making. When he has one to make he'll make the wrong one. He can't be our GK if were to mount a title challenge,
And next year we will. For 2015 we've already demonstrated that we are now contenders,  A couple of new players and we will be in with a chance. Of course, CBC will buy spend the equivalent of the GDP of some African country. But  that's all for later in the summer.
For now we should soak up the enjoyment from a perfect performance., We won't see a final like that for us in another 20 years. So revel in it, a perfect English day. Pub beforehand. Drinking and singing. Warm weather. Wembley Way. Friendly cops. No opposition to think of. Great seats and no need to think of FIFA or that fat rat Blatter. The perfect day.
– LB7