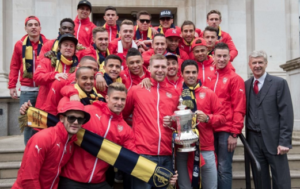 What a masterful performance for the gunners, Ozil, Cazorla and Coq were magnificent, barely putting a foot wrong the entire match. Coupled with this was the endless running from Rambo and Alexis, not to mention a smashing finish from the latter. Throw in superb performances from the whole back 4, a true striker's finish from Theo and Szczesny not playing poor, we were virtually unplayable. We dominated Them from the first whistle to the last. While remarks can be made towards Villa for playing quite poor, it has to be said that they really just couldn't handle us in the slightest, and how were they supposed to? We're Arsenal and they're Villa. We controlled the game offensively and defensively to win what was one of the most one sided FA cup finals in history. It must be mentioned however, that City lost to bloody Wigan a few years back so the potential of an upset is always there and we did very well to erase any idea that an upset was on the cards. I could write about the game itself for days, so I'll limit myself and look forward to next season instead, as LB7 took the mantle describing a perfect day at Wembley.
This game was the culmination of a significant transformation for the arsenal side, a side that is taking real shape and developing a hungry-winning culture for the first time since the move to the emirates. It is clear Wenger has built the team he wants with the style he wants, with Ozil pulling all the strings going forward, and pulling them perfectly I may add. (Close your legs next time villa players)
It is now time to look forward to what should be a compelling and exciting season, the first season since Henry left that we actually have a real shot at the league. Depth and competition at every position, Wenger has developed a side extremely flexible going forward and one that is continuously becoming tighter in the back. Thus, let's go over the top 3 things Gooners should be looking forward to next year, although I am well aware there are much more than 3 things to be excited for.
1. Superstar chemistry:

Mesut Ozil has now completed his second season in England and has complete his tradition from the physically weaker Spanish division, while it was clear Alexis adapted quite a while back. What's making my heart race, along with other arsenal supporters, is that not only was Ozil hitting superb form and keeping it going the second half of the season but that he has no tournament this summer and is building a brilliant relationship with Alexis, not to mention road runner Theo and Rambo. Ozil is the director of our orchestra and when playing well he is uncontainable as he glides around the pitch making everyone else better. His relationship and chemistry with the attacking players is crucial to Arsenal and not surprisingly, his teammates adore him and what he brings to the table (or better yet pitch). Bergkamp and Henry were always on the same wavelength and Ozil and Alexis are building that connection and trust, as they are clearly our two best attacking players. How they play in the big games against the top English sides together, we still need time to see, however when playing against any of the lesser teams, those two rip them to absolute shreds, and the final was evidence of that. Hell last year Sanchez was teaming up with Messi and Neymar and 3 years ago Ozil was Cristiano's golden goose, these guys know how to win at the top top level with consistency and want nothing less.
2. The ever-present development of young first team players.

Hector Bellerin 20 years old
Chambers 20 years old
Jack 23 years old
Rambo 24 years old
Ox 21 years old
Welbeck 24 years old
Gabriel 24 years old
While Arsenal have always praised for bringing in sensational youth talent it was arguably their biggest Criticism since the move to the Emirates, that Wenger put too much faith in youth rather than experience and was too "naive" in his team selection. Fast forward to this year, not only do we still have a long list of stellar young players potentially years away from their prime, but some of those guys have been at Arsenal and in the first team for ages now and understand the culture of the team and are playing with other top players. We have those experienced players now, 3 of our 4 players in defense, Santi, Giroud, Sanchez, Ozil, and Walcott all established players, not to mention veterans Arteta and Rosicky, As a result of this, Wenger most likely won't even be able to give talents like Dan Crowley, Chuba Akpom, and Gedion Zelalem first team time bar early league cup matches, as there is intense competition for every spot already. There are large number of players ingrained in the culture of arsenal, adore and are proud to be apart of the club, reinforcing that winning and competitive mentality, plus some of these guys are going to be here for ages, hell even play out their careers here.
3. Transfers:
With all this talk about how much better we are overall it begs the question, who do we sign then? This a great question because of our personnel currently. This is the first summer no major players are leaving, thus recruitment has to be very smart to not unbalance the side, something the professor Wenger is more than capable of achieving. Adding new players in our arguably weakest positions is complicated; while the goalkeeper situation is simple, get Cech if u can, the defensive mid and striker positions are positions that we could already have stars at. With regards to holding midfield, there has been much talk of Morgan Schneiderlin from Southampton, but when everyone is healthy Coq should be in the team 100 percent, and how do you recruit Schneiderlin to not be a constant starter when u buy him for 20+, also him and Coq are the same age. The other dilemma is that adding another top midfielder makes it even harder to play Ramsey and Wilshere together or separately in the middle as Santi's man of the match performance essentially guarantees his stay this summer. Yes we could use the depth, but we have 3 potentially world class midfielders in Jack, Rambo, and Coq along with Santi fighting for 2 spots and their growth maybe shouldn't be curbed. We need someone to back up coq, but Schneiderlin could be more than we need. 22-year-old Geoffrey Kondogbia from Monaco would be a cheaper, simpler option with less of a reputation and there would be less pressure to play him consistently. In terms of strikers I would definitely welcome either Jackson Martinez or Alexandre Lacazette, but after Theo's final two games and Giroud's second half of the season, that's two strikers already battling for the spot and we still have dat guy Welbs, so again how can u bring in a 20mil+ striker and Potentially have him 2nd or 3rd in the pecking order. I think its fair Theo get consistent games at striker, as Wenger said, "He's entering his prime." You still have Giroud who flows with our team brilliantly and opens up so much for others, as well as scoring. And again you have Welbs, I don't really know what he brings to the table yet going forward as a striker but he's young and still deserves a chance, the boys got some talent without a doubt. The best thing about this transfer window though, whomever we go after, Arsenal has become a top destination again after too many years of not being a potentially real title contender. We can really start to attract the best talent again, and we have the money to do so.
A great year in total, it was a massive step forward in the push for more silverware and regardless of whom the professor decides to bring in, our core group of players are world class in talent and their desire to win is burning stronger than ever.
-DB10