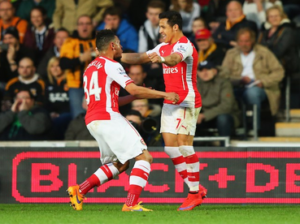 What a brilliant match. People may forget that these are the types of game that for whatever reason, we haven't been able to consistently win in recent seasons. Maybe not Hull specifically, as we smashed them 3-0 last time we went there and then of course there was the stunning final victory (just in case it slipped your mind). Yet in the past few seasons we haven't been able to beat the small teams with the dominance that our rivals have, nor with the regularity, however, winning this affair in such emphatic fashion shows that a clinical nature is developing within the Arsenal Side. This clinical nature is one aspect of our game that has been lacking since the invincibles, the ability to game in game out run riot over the smaller teams, and refusing to believe any other result is possible.
Regardless of how the goals were scored, it was the manner in which they were scored, the discipline and hard work that created the goals was just as top quality as the technical nature that made them. The first, while a deflection, was the result of Ozil winning the ball back and then Sanchez driving at the hull defense forcing them to make a mistake. The second, while also a deflection was the result of an absolutely exquisite ball from the little magician Santi, and some fine attacking instincts by Rambo. The third… what else is there to say about it, started by the Arsenal midfield winning possession back, moved along by a perfectly weighted ball from Ramsey, ended by a easy, composed finish by Sanchez.
There is a cohesion and organization to the team what hasn't been present for years, the lack of outrageous mistakes that Arsenal supporters have been forced to see, the lack of tentative attacking, and confident goalkeeping are new aspects of the ever-developing culture of this Arsenal side. The pace at which we moved the ball around collectively was exceptional. More importantly though, what separates us from other teams more than anything is our movement off the ball to create space; when the players are as active as they were today, especially Sanchez and Ozil, we are fucking tough to play with.

There were 3 stand out performers from today's victory, starting with Santi whose attacking contribution was invaluable today as he composed a majority of Arsenal's attack with either foot. Supplying constant creativity and composure, Cazorla is at many times the heartbeat of our attack and today was no different as he picked Hull's defense apart.
Bellerin, who's pace is just as electrifying each time he bursts into a sprint, not only continues to be rock solid defensively, but also continues to contribute to an attack already loaded with firepower.
Lastly, the silkiness of Ozil continues to dominate games as the lad had an absolute stormer. The amount of times Ozil slips through a challenge or finds a way around a defender whether it be passing or dribbling was world class. His one touch passing and flicks were top draw, constantly creating space for himself and for his teammates in ways other just don't have the vision to see. The man could find you even if you didn't know where you were, just ask Sanchez about Ozil's second half flick outside the box.
Having said all that great stuff, the real win of this game was the return of the prodigal son, Jack Wilshere. To announce his return to the pitch, Jack's first involvement was a brilliant driving run showcasing his dribbling prowess and his heart; and there was of course a bad challenge at the end of it. The commentator proceeded to say, "That is Jack Wilshere," reminding people immediately what he can bring to the table, furthermore, throughout the twenty seven minutes that Jack played, he displayed tenacity, energy and a exceptional touch when darting away from defenders.
Anyone who says substantial progress hasn't been made this year hasn't been watching this side. We flat out would just not win games the way we have this year, we haven't beat the team we did this year in past years, and we are on course to finish our highest in too long. Appreciate the progress and get excited for what's to come, this team is enjoying their football and that should be terrifying for everyone.
-DB10