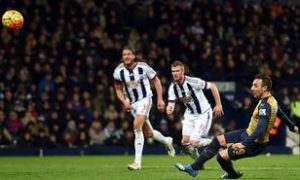 Fuck, fuck, fuck, fuck.
That's my assessment. Fuck me. We would not have scored if they played for another fucking week. Unless of course you put a WBA shirt on Arteta. were always one Coq away from disaster and cock-less has proven to be that disaster. To be (mildly) fair it was not a free-kick for their first goal but that was Arteta's man (I think) – or at least he was closest to the one that scored their first goal. Then with Ozil losing the ball in midfield Arteta managed to score their second.
We had so so many chances though. I'm still in shock from Campbell's miss. And as for the penalty – our lifeline – you have to feel sorry for Carzola. He was back to his best today. All good things ran through him. And Sanchez was outstanding. Electric the entire game. But with all the ball possession we had we were incapable of taking our chances.
Aside from the headed goal I still thought Giroud played like a baby. How often does Sanchez get pulled, tugged and hacked? Yet with Giroud, it's all French melodrama. For a guy his size he gets pushed around so easy; mentally he is too weak. He contributed so little today.
And poor Bellrin. It was like he was back to his original, initial self. Little confidence. No attacking threat and he got out played by Mclain.
Though Campbell was shit when he came on at least he allowed Sanchez to return to the left hand side and provide better balance and more of a threat. Having Gibbs start in front of Monreal was more defensive but disrupted the balance of the team.
But having said all that – how the fuck could we not score a second goal? That penalty was (possibly) worse than the Pires/Henry fiasco; though that one was not accidental.
This was our chance to go top but, no, we let Leicester go top instead. And then ManCity go on and lose. Fuck. The good news is there's still a long way to go. The bad news is that this was not a performance nor a result of a team that looks like it can with the BPL. That's four dropped points from the last 2 games. But worst of all, we have lost our Coq. Though that's somewhat ameliorated by the loss of Arteta.
Needless to say it was not a good day to watch Arsenal. It became reminiscent of the Arsenal of 4 or 5 years ago. We found ways to lose games then and we did so today. Sure, we're much better than we were then but now the expectations deservedly, are greater. And you just can't lose to WBA. Fuck the Champions League I want us to focus on next weekends game.
OK, enough fucks for one day.
–  LB7