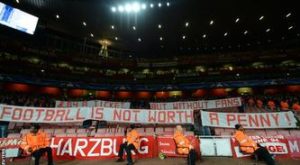 Oh my was that not entirely and thoroughly undeserved? Now we know what it must be like to be Bolton (sorry AW there's no Sam comparison implied). How good were BM? They murdered us and then walked back over our beaten body.
Ok, I exaggerate somewhat. But what a fucking good team they are. They looked like Arsenal on steroids (and they had the result to prove it). How good is their Pole upfront? In the first 5 minutes he nearly pulled us apart. They say that the player-stealing team in Barcelona are the pass masters. This bunch of Nazis made over 600 passes. I would love to see them decimate Barcelona.
OK, I will set aside my love fest for the Nazis – given the amount of money they've spent (and all the slush funds that machine has used to buy anything they want including the World Cup) – it's really hard not to admire they way they played the game. Their passing and movement was electric and so smooth. As good as we can be they play on a different level.
So, back to us. We won! Amazing. As impressive as BM were (did I mention that yet?) Arsenal should receive massive credit for this type of performance. (as would Bolton 🙂 ). The entire team grafted and functioned as a team unit. The tactics by AW were spot on. The team largely selects itself but the way they remained organized was quite impressive.
Even with their onslaught (dare I say blitzkrieg) we had the more outright chances. How did Theo manage to make Neuer looks so good with that header. It looked like Theo was bending over to get his head shaved rather than heading a ball into the net. Overall though I still think Theo had a good game – he does flit in and out of the game but I can see long-term progress in his game.
There were a few weak points – namely Reverse Ramsey. He lost the ball in the first few minutes and then his game continued to go downhill. I don't know where the player of a year or two ago went but we'd love him back. To be fair I'm sure it's directly related to the odd position he's forced to play in. Whenever he drifts infield to his more favored central position he looks far more effective. Living out on the wing is really not his game. On a number of times he'd switch off defending for a goose-stepping Nazis to slide behind him into an open position. Anyway, I'm sure we bound to loose him for his annual hamstring injury – and we will miss him i'm sure of that. If you could develop a time-machine and find a way to merge JW with AR we'd end up with the perfect midfield player – a two-footed dynamic box-to-box goalscoring captain of both England and Wales. JWAR – the midfielder we've always been searching for.
And Alexis twice over-noodled with the ball in our half – both times loosing the ball and setting up breakaways for BM. In each instance our world-class Cech managed to find away to save us. Unfortunately the commenters I had to listen to could not stop droning on about AW not choosing Cech for previous games. Retards. Ospina is also world-class. And, as Cech demonstrated against West Ham and Neuer did today, any goalkeeper can make mistakes. Does anyone remember Danny Higgenbotham as a player? A stellar career dragging his sorry arse around Southampton, Sunderland, Stoke and Derby.  A complete clogger without any skill; a thoroughly unmemorable player. He played alongside Shawcross – enough said. Tonight was as close as he's ever gotten to European football. Anyway, Alexis has to learn from these type of mistakes – it's the only part of his game that's a liability
Both full-back continued to shine. I thought it was quite weird how they kept Mueller wide right hugging the touch-line. They would have been better exploiting the spaces between our center-halfs. Though Bellerin got schooled once or twice he adjusted his defensive positioning quite quickly against a very lively Costa. And while we're on it. How improved is this guy – here was a game where he played defense for 95% of the game yet he managed to make two excellent runs in the first half. And then, when everyone is wilting, in injury time, he intercepts an underplayed pass on the half way line and then storms past the defender to set up Ozil's goal – and know we know what that 5th official is for. Hector is now one of the best fullbacks in the country. And on the other side Nachos was outstanding. In front of both of them Coq worked super hard alongside the ball starved Carzola. We barely had 30% of possession.
But when we brought on the counter-attack we looked dangerous. Whenever we pushed up Alexis closer to Theo we unnerved their backline with pace. Of course, that was limited by Alexis having to play left back alongside Nacho (which ties back to Mueller being position alongside the linesman).
My overriding impression though was of a technically gifted match – not unlike Saturday's game against Watford (ok, I'm kidding). It was fascinating to watch, tactical, very tense and ultimately hugely satisfying. The quality of the display tonight was as good as I've seen in a long time. But we also got an insight into the character of this team. We should be able to develop some confidence that we know how to hang in there when we're getting our arses whipped and then find a way to get a result.
Tonight was a real team effort.
– LB7
p.s. Giroud's nose and arm claimed their first goal of the season.