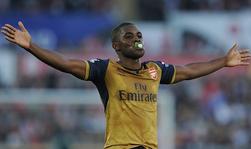 Many a time have I seen Fabianski and admired how he's grown into a real grown-up goalie. He usually plays well against us. And today's victory was not attributable to him. But he did manage to take us down memory lane with a wonderful reminder of the greats Flappy-anski that he used to be for us. Memories of Wigan came flooding back.
Wonderful result. Especially after a lackluster first half during which we seemed unable to pass to each other. But then up strode our beautiful Frenchman to actually use his head (and not shoulders) to give us the lead. From that point on it became academic. Cech had little to do but did everything masterfully. Bellerin was dynamic and full of running. Montero gave him a hard time but again he reacted well. Even managing to bounce of the post in the second half.
Campbell was interesting. I went in to the game nervous of his performance but I also remember him from the WC and other internationals. Today, though – like others – he lost the ball in transition – which is quite scary – he did work very hard to chase back. There were a couple of instances in the first half when his recovery work was excellent. I bet he would not have done that a few years ago. I also liked his positive attitude whenever he saw the sight of goal. Again, I'd been fearful that he'd adopt the pass-the-ball-rather-than-shot approach of others. However, in the first half he took a few snap shots and had a few interesting dribbles. Of course, he finished it all off with a well-taken goal once the masterful Ozil had yet again created another opportunity.
Carzola ran the game and our Coq was steady but largely muted (which is fine – no bookings for him). I, personally, missed our big-eared Brazilian. I love his aggression (and speed). Speaking of speed how can I not mentioned our 6 foot nazi? He's looking slower every game. I don't get why forwards, in this case Gomis, don't just play right up on him. Instead they try and take on our goal-scoring center half Koscielny. And he had another storming game. Faultless.
Sanchez most probably played the worst game I've seen from him in a long long time. Every touch , move, tackle failed to come off. Noticeably he did not work as hard today and did not provide as much cover as normal for Monreal. He's done more than enough for us over the last year such that I'm not being critical. It's good to know we can win without him being on his game. It got to the point where I wanted to see if he could find new ways to make mistakes – like he's header over the bar in the 2nd half. The only surprising thing was that AW left him on the pitch for the entire game when it was clear he was struggling (though he did make a few accurate passes towards the end of the second half). Let's hope this was not just a symptom of an injury he picked up that impaired his game.
It was also interesting to see that, through substitutions, we had, at the end, two left backs and two right backs on the pitch. Of course, our starting ones demonstrated why they are so far ahead of the other guys. How pissed must Debuchy have been? He's own fault though given his recent abject performances.
Today encapsulated everything about Giroud. A possible game-changing, wide-open miss in the first half; opportunities like that against better teams, are the difference between winning the BPL and/or Champions League and not. Classic Giroud. To then be followed by his epic, rolling on the ground shaking his wrist after he was attacked with a machete and destined to spend the next 6 months on an injury table somewhere.  But a miraculous recovery from a near death experience had him resuming his leading of the line. And that wonderful header to give us the momentum. And his link-up play – especially in the 2nd half – was very effective. (I know wonderful praise indeed).
A short mention for the referee. Though he should have handed out a bunch of yellow cards to Swansea in the first half, I actually like it when a ref can show commons sense and restraint. It was never a physical game but so often the men in black can change to dynamic of the game with tetchy, annoying yellow cards. Where's Mike Dean when you need him. Anyway, good on him.
I'm beginning to think that Darth Vadar could have been right. The loss of Cech to Arsenal has changed both of our seasons. His saves for us, mastery of our defense and his absence from Chelski Business Club had been a major determining factor in both our seasons. As I watched the Chelsea game, it was so clear that he's on another level to Begg-a-bitch.
So onto Munich. Lots of WWII references to come. I have suitably low expectations. There's no way we can march into that stadium and expect any points after our victory at Arsenal. I'm sure they will turn up the heat, run at our BFG and look to avenge their loss. Remember, we had been on the ropes the whole game; they killed us until we scored the first goal.
Then the WFWHL*  turn up next week. And then, just maybe, we can get some players back. It just goes to show, that it does not matter who you buy or groom through your academy (or Southampton's), avoiding injuries is critical. Though it is noticeable that it's the same group of players who get injured. Without wishing to jinx anyone there are certain players – our recent overseas acquisitions – that seem to play continuously.
Anyway, enough drivel for one day.
– LB7
*Wankers from White Hart Lane