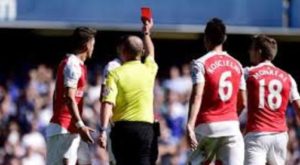 Where to start. How about Fuck Michael Dean.
This was a reasonably dull game heading in all likelihood to a 0-0 draw. Diego Costa is a cunt. There I've said it. That needed to be said. It's also undeniably true. I would never in a million years want a cunt like that playing for Arsenal.
He really is a bully. A malcontent that is happy to push players, confront and target them and then cry like a little baby is someone so much as breaths on him. He makes Drogba seem like a gentleman.
Gabriel was stupid clearly. But how you could get sent off for raising his foot like that when it was clear that Dean Costa was all over him is beyond me. From the second the cunt received the yellow card (from the cunt) he was in Gabriel's face. Where was Dean then? Dean Costa went out of his way to stand behind the ears that are Gabriel; he was antagonistic, taunting and agitating.
The man with the ears than raised his foot. Personally, I would have turned round and wacked him in the balls with a concrete block. I'm pretty sure it was a straight red. Really? A straight red for that? But not for Dean Costa push Kolshellknee in the penalty area? It was so easy for Dean to show some common sense here but he took the easy path. And, as a result, ruined a quite tedious game.  And that's the point (or three), he was the change agent in the game; not the managers and not the players but the referee. That's the worst that can be said about the referee. He should have diffused the situation.
Jumping forward to the Santi sending off. Really? Our little, polite, non-aggressive midfielder going in for a challenge that was barely a foul. Not intent whatsoever. And yet he gives a second yellow? How about the time in the second half when Dean Costa tangled with Bellerin? No second card for that. Again, was so easy for Dean to impact the game. What a joke. It's embarrassing.
Besides the two calamitous cunts, we saw Ramsey struggle again to be involved in the game. It's hard to judge the second half for obvious reasons. But he was at least central. But he was relatively ineffective.
I love Ozil. But today he was too quiet. Not involved enough.  I was glad to see Alexis come off today; he still has not found his groove. He will but we have to be patient.
I like the AW moves; we finally had TH14 and Giroud on the pitch at the same time. However, I'm beginning to despair with Giroud. How can you come on and stroll around the pitch with so little passion?
Monreal was excellent; TW14 is still working his way into this position. I liked Santi today; I thought he had a very controlled game. Of course the big worry is to our damaged Coq. We can only hope it's a strain and that he'll be back in a week
But three was a bad number for us today
lost three points
lost three players
lost one player for three games
OK, not such a compelling analysis of the number three.
Anyway, it was also interesting to see how badly ChelDean struggled today. They are clearly lacking confidence; there was little fluency to their game. Without the advantage of the referee changing the course of the game, I doubt they'd have gotten the 3 points. Even after we went down to 10 men they failed to really impose themselves. Sure they had a lot of possession but they had very little creativity. BTW, how shit was Costa today? Aside from being a mean cunt who is spoiling for a fight, he was pretty shit. Again, I don't mind mean cunts – but then take it like a man; don't go crying like a baby when someone even comes close to give you back 1% of what you've handed out.
And ChelDean depend quite heavily on Fabregas and Hazard and neither are really on the boil currently. But tactically I also though they were underwhelming. Very little creativity.
Of course, if Alexis had converted that one chance we had in the second half it would have been interesting.
I have faith that at some point this season someone will take a chunk of flesh out of Costa that or he has another thigh injury. Retribution will soon be apoun him. But what about Dean? There will be nothing. Even though he was the difference between the two teams today
– LB7
p.s. did I mention that D. Costa is a cunt – as is Mike Dean