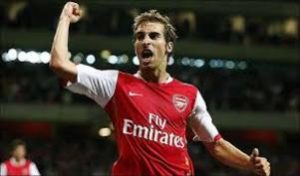 Not that anyone should actually care about the stupid Milk, Carling, Littlewoods, Capital One Cup but that was amusing to say the least. I'm still having nightmares from that Martins goal in 2011. BTW, you'll never guess who was the referee that day; M. Dean – I kid you not.
Anyway back to the match.
Beaten by Flamini. Tee Hee. Or should we rename him Flamzini after the great ZouZou. Or maybe the bromance with Ozil is "rubbing" off on him. Either way, that second strike was sumptuous. I thought – like with the rest of the game – Giroud was going to run into his path. But fortunately he was too slow to get there. We've always now Flamzini was wonderfully mental but who knew he could score such a wonderfully technically difficult goal like that. Here was an example of a players who barely gets any playing time actually applying himself and taking the opportunity. Throughout the game he was his usual workhorse – for example, when he dived in going to ground in the penalty area in the first half to deny Rose a clear shot on goal once he'd waltzed past Debouchy.
It's a shame I have to bring Girouds' name up so early. He was a big yawn today. For a guy looking to win his place back he did not exactly work his socks off. Against one of the worst Spurs center-half's I seen in along time (and that's saying something) Giroud barely won a single header. Someone seems to have stolen his mojo. In every encounter he has this forlorn, picked-on look on his face. His body language reeks of someone who's expecting to lose every dual, miss time every header and scuff then his shot. His confidence has evaporated. But I don't get why his energy levels are so low. He barely chased down the ball. Ramsey is still off his game but he charged around the entire game working tirelessly. It's when you then compare those efforts to Giroud that any empathy or sympathy for Giroud is lost. At some point he will come good but it will have to come about via sitting on the bench.
Of course, it goes without saying that Giroud was by no means the worse Arsenal player out there. By a country mile that was clearly Debouchy. I have always thought that Bellerin – who is clearly still evolving – has a weakness with positional sense. He must have studied Debouchy closely then. Today, Debouchy was nearly always in the wrong position and then would make the wrong decision as to whether pull back or attack the ball. It's pretty telling that nearly all the threats from Spurs came down Debouchys' side. Once Oh-Spina saved him by charging out. But on so many occasions he was beaten and/or his distribution was awful. A generous person would say he's been out a long time and towards the end of the game he improved. But I'm not generous. And for a player of that experience it was not the type of performance that will elevate him back to the first team. It's pretty damming that even with Chambers in at center-half, Debouchy was our worst player out there. The difference is that Chambers is 10 years younger and still figuring out that position.
There's little else to comment on. Once we scored out first goal we withdraw back into our shell. Of course, with both Flamzini and Arteta in midfield our creativity sucked so it's inevitable we ceded more of the game to Spurs in the second half.
Campbell worked hard and showed some ability. Another one who's working his way into match fitness. The Ox was better than he has been. One of his runs in the second half was a perfect microcosm of his performance. Chasing and fighting for the ball on a breakaway he eluded a couple of players (and a fearsome lunge by Dier – what a perfect name for him) only to then overcook the pass out to the far right wing. Many times now we've seen him do this – overcooked the final delivery. Shame. But he also has many years ahead of him and, hopefully – soon – he can learn what composure is.
Once Alexis came on we looked more threatening. Both he and TW14 had glorious chances that they most squandered. Hopefully they are saving up for when it matters most (i.e. this weekend).
The BFG was solid and Gibbs saved our bacon with one great goal-line clearance. But Spurs did not exactly stretch us; Oh-Spina had few saves to make. Both teams seemed to be un-par today.   But Spurs lacked any real drive or creativity. Aside from the excellent Kane volley (BTW, how can he see anything over that nose) and Debuchy vacating the right-hand side of the pitch for them, there were very few direct strikes on goal.
And – miracles of miracles – none of our players was sent off. See, Mike Dean, that's how you can ref a game.
So our season progresses. We are still a long way from hitting our stride, finding a rhythm with any type of consistency. But it will come, it has to come. And hopefully it will come at Leicester this weekend.
– LB7
p.s. you have to laugh that Gabriel got cleared of his sending off and monster-man Costa got a three match ban. Now can we have our three points back?