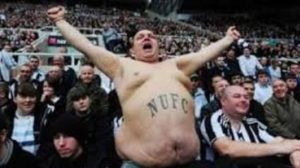 I mean, how stupid are Newcastle. It's bad enough they are Northerners. Bad enough they live in Pubs and still miss working on the slag heaps of the coal mines. But really, how could you chastise this ref? 7 bookings. And how many after the sending off?
I'd always thought of Newcastle as a tough place to play because of the pressure they put the position under. Today was unlike any I'd seen from them. Maybe they were fed Red Bull before the game. They came out charging at our legs and bodies. How many times was Sanchez taken out? It disrupted the game but at least we only had to deal with 10 thugs for 75 minutes
Where was that wally-in-the-brolly Mclaren. Why wasn't he coaching his team to control themselves. Some of the fouls were just so blatant. And yet their fans continued to boo Monreal. Of course, it was his fault he decided to let his leg get kicked by the Newcastle players. How many times was the Coq chopped down. If he wasn't circumcised, he was today.
I have yet to read the after match comments from players and managers. But I bet Mclaren feels hard done by. Wanker.
The game itself was settled once their $20m thug was sent off because The Coq slide his shin underneath his studs. Depressingly we looked worse when they went down to 10-men. We lost all our thrust and pace. Everything was too sideways and slow. I figured we'd come out more charged up after half-time. But it was more of the same.
The game goal came from one of the few direct plays we made. How The Ox managed to shoot it in the general right direction I don't know. This surely has to be one of the all-time worse games he's ever played in. He's feet look like they were tied together. Every pass, every decision he made was wrong. I don't get how a guy with this much talent can wait on the bench for 3 games for a starting place and then stink it up like that. I would have taken him off at half-time.
Theo missed two chances that would have taken the pressure off but I'd still have yanked The Ox first. It might have been interesting to see him play alongside Giroud. And how about Girouds' miss right at the end? I don't know whether we'll find another striker. And it's not entirely clear there's anyone out there – that's available – that would improve us. But, for fucks sake Giroud. You're a striker. So fucking strike the ball. Why are you trying to chip the ball when you 7 yards out and the goalie is right in front of you. I suppose, therefore, I do have sympathy with people that claim we'll never win the league with him as our striker.
I liked Gabriel. But it just shows you can't afford to lose two Nazis from your team. This is a game in which Ozil would have split their defense apart. Aside from the Ox, Ramsey continues to underperform. Playing in that number 10 spot (pause for bending of the knee to the true DB10 genius) Ramsey failed to shine. Too much sideways passing but he was not helped by the general lack of running off the ball in front of him.
Again The Coq was suitably impressive. What odds would you have got, that in a game of 8+ cards,  Carzola would get booked and the Coq would not?
But for all the criticism, the one thing that stands out is we got 3 points. Wonderful. It's lovely to play like crap and come away with 3 points. Sure 2 of our 3 goals this season have come care of own-goals (thank you by the way). How likely is that to continue? (not the own goals). At some point we'll hit our stride. Sanchez looks sharper but still needs time. Ozil was missing, Theo will improve and Jack will soon return for another 3 games before getting injured.   I've seen a number of seasons where we start wonderfully and then fade. And I've seen last season where we could only draw or lose games. So this year we've found a way to get points even though we clearly suck. That's what I call progress.
And now we have to deal with both the stupid noize from the closing of the transfer window and an International Break. Honestly, you gives a flying fuck about International games? Restrict these to a month after the season is over. And stop interrupting the more important business of the Premier League.
– LB7