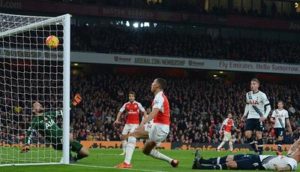 I'll take a point. After being outplayed and out fought for long periods – and being behind for a large chunk – I'll take that point.
Come on now, who actually understood why AW took for Campbell and replaced him with Gibbs. Campbell had a very strong game. He continues to work hard and also create some chances. His passing was sharper – you can see his game has evolved. But we were one nil down and rather than pushing for the equalizer Sp*rs had us pinned back. So why would you take off a creative force and replace him with Gibbs? Oh, right – so he could score the equalizer. So much for AW not having tactical acumen.
And it was against the run of play. We were out fought and outrun. How many times in those 50:50 battles did the ball seem to end up with them? We lacked any cohesion in mid-field. Carzola did not have his game. It's very rare for AW to make a half-time substitution so you have to figure something was wrong with him (Santi not AW). But it was noticeable that not only we were not able to string passes together but we kept giving the ball away just inside our own half. It was reminiscent of the WHL game last year when we were out muscled. They play a high press game against us and it required fast, precision passing to counteract it. One instance was in the first half when for one of the few times, Carzola was able to play a one touch off-balance pass to Debuchy just inside their half. Only when we moved the ball quickly did we show our ability.
Talking about quick what are to make of our BFG? The spacing and gaps between him and Kosclieny were too wide. That first goal was partially down to BFG moving up when he did not need to and given Kane space to exploit. And in the second half how did he and Cech get themselves into such a mess? But, Cech was excellent – again – I'm sure without him we would have lost that game.
Coq fought desperately hard the entire game but with Carzola off his game and Flamini not being renowned for his passing, we were not able to get a grip on the game until Gibbs goal. Ozil was too isolated and had too few options to inter-play passes with. Though as our creator-in-chief he setup the Gibbs goal. Sanchez still looks dead on his feet. He needs a long, recuperative period in order to recharge his batteries.
But as much as I hate to say it this was one of the better Sp*rs teams we've seen in a while. That played an effective high press game and controlled the ball for long periods. They were more physical – stronger in the tackle and harder working. You could though see their energy levels drop in the last 10 minutes.
Of course, by then we should have not just drawn level but gone ahead. So it's time for the regular Giroud commentary L. What to do with this guy? He is so close to be  wonderful striker but he just finds way to fall short (and, I know, always will). At half time I could be heard to say this game would swing on the once chance that Giroud would see. OK, so I was wrong. He had THREE chances. For the first one when he hit the bar he was being pulled all over the place (as he was most of the time) and so was slightly off-balance. But, for the second,  how he missed the entire goal with a clean header from the Ozil corner is beyond me. And then the next chance – again from a corner, was at least on target but given that he was again unmarked is yet another wasted opportunity – he really should have done much better. But three chances in a derby game like that and he does not score a single one. Wow. How wanky is that? Sure Walcott would not have gotten into those positions to head the ball but Giroud really has to do better. It's pretty clear why fans get so frustrated with him. Luckily Gibbs bailed us out otherwise there would be a two week witch hunt if we'd have lost.
I was worried about Debouchy – maybe the unluckiest player we've had since Diaby. He's certainly got his game back. He was unrecognizable from that player from the WHL league cup victory. He chased and fought the entire game and was not the defensive weakness I'd feared. Nonetheless, let's hope Hector recovers over the next week.
Now we have two weeks of boredom waiting for the season to resume. Of course with our accumulating injury list we could do with some rest. I just pray that Sanchez does not have to play stupid, irrelevant international games but rather can actually reset.
And finally, of course I'd like to send out my sincere best wishes to the original Darth Vader – the one who's had the pleasure of running the most corrupt organization in football. I believe he was taken to hospital for a check-up on Friday. I wonder whether they were able to determine whether he was human? Not a good week for his underling. His team are plummeting down the league and he's banned from stadiums now :). Could we be rid of both before the year is out?
Evidentially poor Sepp had been under stress lately. It's all those years of being utterly corrupt that are finally catching up with him. What with his protégée being unable to be coronated as our new glorious leader maybe there's still hope that this entre edifice can come crumbling down. FIFA serves no purposes (not unlike the NCAA) run by people who only care about filling their own pockets (not unlike the NCAA) at everyone elses expense (literally). Except, at least with FIFA the players actually get remunerated (as opposed to the NCCA slave labour rules).
Anyway, we're all on the edge of our seats wondering how, with it's glorious leader being suspended/incapacitated, that this wonderful organization is still able to function is beyond me. If I did not know any better I'd say none gives a shit.
– LB7