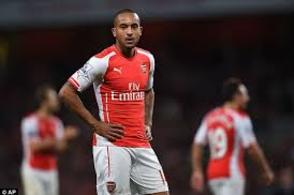 Oh those dreadful forwards, how we need to buy a pair. Their conversion rate is just awful; they miss too many chances, We need a world class forward (or two).
OK, sarcasm over now.
Relaxing an enjoyable; I can't believe how, right from the start, Stoke defended so deep. Unlike teams with whom we had trouble by pressing us high up the pitch, Stoke ceded most of the field to us. Therefore we had, from the outset, total control of 2/3rds of the pitch.  And with Ozil back in the team, it was inevitable that he would craft chances. Of course Theo decided to only convert the most difficult of all of them.
Our Coq was big. Massive interception to set up the Ozil pass for Theo. Surely that is the exact definition of the job posting for a DM at Arsenal – "Crunch into tackles, fly around the place, intercept the ball and then immediately get off the ball and give it to our resident genius O11". It's when he falls into the Song-trap of thinking he's better than he is when he runs into trouble. There was a period where both he and OK6 tried their hand at distribution, heaving long balls up field; bringing back unfound memories of Kolo who used to (fail) to do the same thing.
To be fair, when this is occurring it's usually because our midfield is not close enough to our defenders. There were a number of instances where Santi and others were just not close enough to receive the ball and start the creative move.
Of course we murdered, slaughtered and butchered Stoke. It's a pleasure to watch us when we start games like this. The advantage of TW14 is that he does stretch the defense; our attacking game is one based around speed and that suits him. On another day he could have had a hat-trick.  And on other days he will. And Santi will also score.
The only concern (aside from the ever-injured Jack) is Aaron. He seems to be caught half-way between he's worst season of two years ago and he's best season. So often he receives the ball and goes side-ways or backwards. Also, he's one of the only midfielders we have that takes too many touches. He inevitably slows our game down.  Unlike O11 and Santi he just loves touching the ball too much. The good news though is he still finds ways of getting into the penalty box. He made a number of great runs – and he's not afraid to shot (though some were reminiscent of Sanogo). But only when he adds more pace/speed/quicker distribution to his game will this team get back to their prior best.
Another positive is how our ugliest Brazilian has slotted into the defense in place of our lanky Nazi. Aside from the ugliness – that's what I call a pair of ears – he is so aggressive and pacey. How can you not love the way he felled that pillock Arnautovic. This guy really is a prick. I remember him attacking Debouchy last year when he was already off the pitch. Obviously Shawcross has been training his teammates. He shoved and tried to elbow Gabriel and then acted as though he'd been shot when he did go down clutching his face. I can't believe he did not try and protect he's ever so sweet little pony-tail. He was definitely in danger of having his hair messed up. Rolling in the floor when then still had an attack going. Jerk. To he's credit Hughes would never have done that (of course he would have been the aggressor the way he played). Everytime I see this guy play he takes outrageous shots/free kicks. He's a prima-donna of the highest order. Hopefully Shawcross can tackle him in training.
Next week will be tight. Though it's early in the season I think the opposition, which already finds itself scraping for points in a relegation fight, will be desperate for points. For TW14 and the Giroud to have their scoring boots on will be crucial. And before that we start in Europe on Monday. Maybe our Germans can finally help us conquer that region again.
BTW, did anyone else see the ghost of TH14 playing in the #9 short for ManU this weekend. Scary. But that's what you get is you spend the GDP of a small third world country.
– DB10