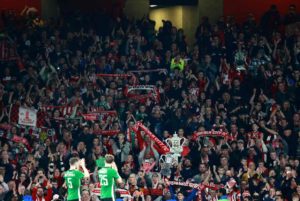 Phew. That was close. For once 5 goals are scored and we're the team on the winning side. We should play non-league opposition more often – it's highly underrated. Though Brighton and Burnley might not be of the same view. Luckily we're not Brsenal FC.  And thankfully Lincoln will still be financial beneficiaries. Unlike in regular league games where the home team keeps the gate receipts, in the F. A. Cup, for this round, when the away team is a non-league team, they get 50% of the net gate receipts. I bet you did not not know that. See, come here and you'll always be assured of mind expanding knowledge.
Unfortunately there won't be much else to learn from todays game. Well, not stuff you'd not already know. And stuff we've not already commented on time and time again. Not that that stops me.
For one, we should ban anyone playing for Arsenal if their names starts with a G. That way we won't have to watch either Gibbs or Giroud. Previously I've stated that Giroud is a B+ player. I meant to say B+ at the nursery school level. How can an international player struggle against a non-league team? Ask Giroud, he'll be able to explain that. This was like his old self. Slow and wasteful. It was nice to see Gibbs pull-off a perfect Giroud imitation when presented with a clear header in the second half and literally from the same spot that Giroud missed against Bayern. Prior to that Gibbs found ways to lose the ball, pass to no-one and get beaten by his man a few times. I've always liked him being that he's been with us for 10 years. That imbues some loyalty. Bu at some point he needs to improve or move on. And I'm pretty sure that after 10 years we can say it's move on. We need someone who can put real pressure on Monreal; bring on our boy Cohen.
Also, by having big, lumpy Giroud up front our entire game shape is static and sticky. It's slow and ponderous. In that first half he hardly won a single challenge against a non-league bunch of defenders. How can that be? Once he was replaced by Perez, we became more mobile and faster in possession. It's a shame he did not get to score. One of these days, in the not too distant future, Perez will start a game. Imagine that wonderful day.
And, Gamsey. How frustrating is he? Sure, he scored. And in their 1/3rd of the pitch he can sometimes looks like a real footballer. But for most of that first half he did nothing – aside from getting out-paced by a bunch of non-league players. He rarely helped the link up play. He barely moved the ball forward. What are we to do with him? A midfield of him and Chaka will not create and can't really defend.
How stupid was the yellow that Chaka received? Why go to ground like that? When – if ever – will he learn his lessons? To offset that he's passing was good – changing direction and opening up the game. He does do that well.
Ox was, for the limited time he was on the pitch, one of the few players in that first half that looked engaged. But, how often does he pick up these injuries? Just when he's getting into his stride with a number of games. Just as he's starting to earn a regular starting role in the team. He's now at the point where we will actually miss him. That cross field pass to Bellerin in the first half was excellent.
Bellerin is still working his way back to his prior levels. Again today he made a bunch of mental mistakes – a concentration issue really. But going forward he looked more like his old self. He linked up well with Theo today. And Theo today was good Theo. Of course, it's easy to be good against a non-league teams. Though don't tell Giroud that. Theo moved around and found space and was at least positioned in the right place to have chances; unlike Giroud. How we needed that goal just before half-time. Care of a couple of deflections, that was a well-taken goal.
The second half was entirely different. Oh, I know. It was a game of two halves.  It's been a while since I've said that. See, I told you you'd learn nothing more today. But in the second half we were more mobile and sharper. I don't understand that first half performance. I don't understand how the team can't play consistently for two halfs of a game. It really makes no sense. Of course, the non-league team were facing the reality of a loss and can't be expected to have the same fitness levels. It was though nice to see Ozil involved in the game. And good to get our Coq back on the pitch.
We also learned today that Cech is a better goalkeeper than Ospina. Who knew that?
So, while we avoided a banana skin, I'm sure no-one was entirely happy. A cloud is hanging over this club. The fans – or so-called fans – are in revolt. The truth is that they are revolting and not really fans. They are morons who claim to support the club but would rather channel their anger onto AW and undermine our team. I detest the idea that people are organizing demonstrations against AW. It's so utterly futile and disrespectful. Both to AW and, more importantly, the club and it's fans. Who the fuck do these people think they are? Do they think they own the club or that any club is a democracy?
If these wankers want to do something constructive, then focus on the right target. It's not our manager – it's the ownership. Go after Silent Stan. Go after our million pound CEO. Why pick on AW after all he's done? It's not he's fault he's the manager. What's he supposed to do? Fire himself? That's the boards job. More importantly, we've not finished the season yet. Let's see how bad we are 🙂 Or maybe, as fans we can hope to improve as a team and compete until the end of the season. And that's the right time to make decision. How the hell do you turn up to a game to support your team with a placard or banner stating that AW should leave? What's the expectation for the game? That we'll lose? Is that the hope so that person can get their 1 minute of fame by having their ugly mug on TV. The results will drive everything here. If we fold against ManCity, Man U and Sp*rs it's obvious what happens. If we continue to fail against the top 6 there will be change. Let the results dictate that. In the meantime, hopefully, the team can resurrect itself and save their manager. I'm not too optimistic but, as a fan, allow me my deluded hopes.
See, i said you'd learn nothing else new today.
-LB7