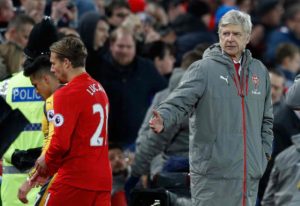 So forget the score and forget any humour. This game was all about team selection. And AW got this one wrong. I liked the idea that he changed up the team just not the actual changes he made. So often people complain that we're too predictable. Well, be careful what you wish for. Todays selection was anything but predictable.
There was reason at work here. We knew they would come charging out with their high press game and we'd have little chance to build up play. So we need our big guy up front to hold up the ball and give us time to come out from defense. Sound reasoning but poor execution.
As expected they had possession. And as expected we had no defense. You can't keep hemorrhaging this number of goals and expect to pick up points or compete for the top 4. The first half felt similar to the Bayern game. They had the momentum and control. When we did have the ball we found new ways to give it back.
Let's go back to the selection. Our best player. Our hardest working player. Our most passionate player. Our highest scoring player. And he's not on the pitch. But, hiding just behind Giroud in the number 10 slot is our favourite 20 year-old – OB1. Only Arsenal could replace a £42,000,000 record-signing (who has the flu) with a £42 youth player. Funny how the contribution mirrors the acquisition cost. Look at who they had. I never liked LLalana. But I'd prefer him to what we had. Alexis would have been better there – even if that's not his position. Against Liverpool, in a crunch game you start Ob1? And you can be sure he'll be starting in the next game (albeit out on the wing). What does he have to do to lose his starting place? Maybe if he chopped off a leg? How about decapitating Mike Dean? Surely that would get him at least a 3 match ban. Not that I'm condoning violence. This is a violence free blog. We here at BBandB remain sensitive to the feelings of our readers and would hate to upset anyones sensitivities.
Again, this does not explain the result. Having Alexis on the bench does go a long way to, though. It does not help that someone has cut off our Coq. He's now all flaccid. I swear someone Alien (or the Ghost of Denilson) has taken over his body. In the first half he gave the ball away 3 times with errant distribution. Alongside him Chaka was quiet and decidedly average. On numerous occasions both were out of position and not providing cover for the center of the defense. I've said it before and I'll say it again. I want my Coq back. The real one not this fake, cheap imitation. Or, just maybe, it's poor old Coq reverting back to form after 18 months of a stellar period. That's a scary thought. Because Chaka is not the replacement. And I hate to think this is as far that Coq can take us. But the evidence is starting to mount up against him. Even that stupid yellow card today. But he's game was littered with too many mistakes.
As soon as I saw Welbeck on the team sheet I knew we'd be tested on the wings. He's many things is our Danny (well, he's not actually ours ….) but covering Monreal is not one of them. On a number of occasions he failed to track back. But that first goal was so simple. So easy. We hardly made them work for it. What an inane gift. Koz misses a header and then everyone proceeds to watch and therefore get caught out of position. Bellend gets caught inside and fails to clear the ball and they have a man over. You can see Chaka and Coq on the edge of our area slowly reacting to a simple headed flick on.
For the second goal, after they get a lucky deflection off Chamberlin, Ob1 fails to track his man and then DW23 can be seen out of frame as they have one man over on our left. Throughout the first half we were out matched and over manned.
Just to prove he'd got the team selection wrong Alexis comes on for the second half. How rare is it for AW to make a change for the start of the 2nd half. That's how bad we were.
And it changed to dynamic of the game right away. Of course, by then Liverpool were 2-0 up and caught in that stick or twist mode. Do they go for the third or conserve what they had? Either way, our play improved. We had more possession and there was more movement up front. Giroud had a header he should have scored from but at least we put them under pressure.
Then Alexis and Danny combined for a fine goal. Actually, it was brilliantly taken goal. And then we finally had a game on. It was good to see Peres come on. And we also had Theo come on to look good combing his beard on the right wing. He's one contribution looked to have been to send off Can but instead Chaka talked he's way into the book. One of the few things he did all game. Removing our Coq did not expose us to their dangerous attack. As in past weeks, The Ox played pretty well in that slot. He was not the problem.
It's not as though we were assured of winning if Alexis started. I get that we needed to make tactical changes – people always complain we're too rigid. But we rarely played long balls up to Giroud in the first half and he could not win any of them. And even then what the fuck is Alexis doing on the bench. Of all the players to drop? No thought to dropping Ob1? Or DW23? I don't get it. And I doubt Alexis does either. Without Ozil you then proceed to drop your only star player. Play him at full-back next time please.
As much as I detest Darth-Vader, do you think he'd ever consider not playing Ibra even if he wanted to make a tactical change. Would Pocohantis consider not playing bigNoseKane? I think not. AW was caught up being too cute on this one. And based on his post-match comments I think he knows it.
As has been said many times this year it's a game of two halves but we only play one of them. Not that we were so great in the second half but compared to the first we did find some semblance of form. Ox slotted in well but Chaka still kept making sloppy passes. And he's positional play is not that of a defensive midfielder. He's a fine example that spending money does not assure you'll get the player you needed. Spending money is the perquisite but identifying the necessary right qualities is something else all together. And Chaka is good, average, solid unspectacular – but not in a Gilberto sense. More, in an underwhelming sense.
So we start a game at Anfield. A pivotal game. These games – against the top 6 will determine our future and that of AW. And yet we have a midfield of Ob1, Coq-less and Chaka. Yikes. What has happened to us. Who would have predicted that at the start of the season. We had Santi, Jack, Ozil and Ramsey. Where would we fit them all? Well, one we fitted into the team on the south coast. How we could have done with him today. To be fair though that was his decision. Playing Ob1 was ours.
After our goal rather than continue to press we lost tour way. Maybe that coincided with Theo and Peres coming on. I would have preferred to have seen Peres come on for Danny and leave Giroud on the field.
It's hard to get too upset. It's all to predictable. And you can be sure as shit others will be fuming and burning down the house. Man for man this team is not good enough. It's good enough to get a point out of Liverpool. If, that is, one of your men is Alexis. Liverpool deserved the points today but lets be clear, they weren't that good. They did not pound us to death. We lazily game them the first goal. The last one was off-side – not that it mattered by then. Though it did come right after a good chance we'd had at their end. We have too many weaknesses in this team. And we have a confidence problem.
After the Bayern return game we have another useless game – this time against Lincoln. Then it's another gap before we play WBA. Then onto Man City in April. By then we could we off the pace of the top 4. Other will drop points. But we need some performances. We've barely played a decent game since November. Of course that coincides with our loss of Santi. How we get back on track I don't know. Maybe getting Ramsey in alongside Chaka. Getting Ob1 out of the starting 11. That might help. But pinning hopes on Ramsey is a truly sad state of affairs.
AW must be perplexed and worried. As this season looks to implode he will be denied the chance to make his own decision. If we can't pick up points against the top 6 that will drive the momentum behind the cries for change. This is not like 3 years ago. Winning he F. A. Cup – which is by no means a sure thing – will not help this time. We've spent real money on Alexis, Ozil and Chaka. We can't be fading away like this. Silent Stan will remain happy but AW is not stupid. He will not want to be in a situation where he does not have the support of the fans. Nor the support of Alexis or Ozil.
This is not the end of the beginning. It's not even the beginning of the end.  It's the end of the beginning of the beginning of the end. Or something. Either way, the fun has gone. I have no humour with left. I don't enjoy watching this team play. I have not confidence or belief. Just like the players really. Except they get paid millions to play and I clearly can't play. Just like some of the players really.
-LB7