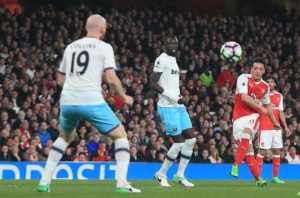 Finally. A win. But why am I so angry? Why did I not enjoy that victory?
They are so rare these days. Because we had to watch the son of Dean ref this game. How fucking insanely shitty was Martin Atkinson? How is it people as retarded as this are allowed to ref professional games? How can one ref be so fucking useless? How can the standard of EPL football be so high but the referees so abject and absolutely incompetent. The only good news is that we're unlikely to see him again this season – I pray.
Really, how could he not give us a penalty when Theo was pushed over in the first half? In all I think there was four clear penalty shouts for 4 clear penalties. Yet we got none of them. On another day against a better team they could have been game changing mistakes. What about when Monreal was so clearly fouled in the box in the second half? How could that not be given? Where is the accountability for outright incompetence? Throughout the game he continued to make an array of bad decisions. Calling fouls that weren't and not given fouled that clearly were. What about in the first half when Ozil was clearly fouled. The list goes on. I'm not sure he was biased as I know we got some fouls called for us that weren't but given that we had the vast majority of the possession we suffered most of his fucked up calls. So, the only question is who is a bigger, fucked up wanker. Atkinson or Dean? Hardly matters. Neither is capable of being a professional ref at this level. Idiots like this make Clattenburg and Oliver look like superstars.
Can we play West Ham each week please? Because they were shit. I was nervous with Carroll playing – naturally- but he was ineffective. To his credit Mustafi won every aerial dual today. I can't remember Carroll winning a single header. Unfortunately, this was offset by the totally predictable pathetic distribution of Mustafi. I don't get this. Why the fuck don't we learn our lessons and make sure he does not get left with the ball at his feet. We should have midfielders screaming at him to receive the ball. I can remember four occasions today when Mustafi attempted long ball passes; two were intercepted within 30 yards and two were wildly over hit. But those first two could have led to (against a better team) to counterattacks. And, as with  ManCity, there were a few instances where he went charging forward to intercept the ball and left a gap behind him in defense. I like his aggressiveness but I don't trust his judgement or distribution. He works hard but I'm not convinced be has the composure to be a long0term, effective center-half for us.
Alongside him Bellend had a torrid first half. I will never understand why the fastest, pacyest player on our team feels compelled, in a foot race on the half way line feels the need to rugby tackle their player thereby conceding both a free-kick and receiving a yellow card. Too often Bellend is getting beaten and making poor decisions. Maybe it's the second year blues for him. But he's not progressed this year. His judgement has not developed and he gets beaten too easily. Moving forward he's improving and he nearly had a beautiful goal care of Alexis in the second half.
So though we won what turned out to be an easy victory I found myself bubbling over with anger – at least until we scored. The first half was slow and ponderous. Alexis had a chance care of Chaka. And then Theo had a chance that went into the side netting. We started slowly and gingerly found our way as we also realized that West Ham offered no threat. In the second half we played at a higher tempo. And we were the beneficiaries of an important Ozil goal that looked like it could have been offside against Alexis. And then Theo found a way to score again. He does have the instinct even if he does not have the talent.
Another disappointment today was Welbeck. I still can't believe he missed the chance that Theo set up for him in the second half. In the first half he was anonymous – barely involved. And then to miss that chance as we were only 1-0 up was criminal. We're stuck between a mobile, fast-paced center forward who can't score and a lumbering, slow one that can. Giroud scored another classic left foot curler. But he can't actually be part of our forward line as it takes him ½ an hour to get form the half-way line to their penalty area. He just does not fit. I had wished that we'd have played Welbeck on the left and Alexis in the middle. Alexis, in the first half, did not seem engaged. He improved in the second half but I still don't' feel like he's fully onboard with this team. He seems unhappy. I'm sure he's going to be on his way at season end. He does not have faith in this team.
Ozil worked his way into the game. Not his worst game. He came hunting for the ball more often and looked for movement ahead of him – of which there was little. But he scored and was involved in the second one as well. Overall an improved performance but you can see his confidence is low.
Moving to the more positive end of the spectrum Martinez was very solid in goal. Good distribution and a couple of important saves. In front of him Gabriel was solid and focused the entire game. Elneny was solid – not earth shattering but OK. He got out muscled a few times in defensive areas but overall he linked up well always looking for our man of the match. Our man who still deserves his name correctly spelt – Chaka. He ran the midfield today. No yellow card but physical. Stayed on his feet and most of the time was in the right position defensively. He was the fulcrum through which all our play started. Elneny defers to him and gets the ball to his feet. Chaka sprayed the ball well and moved the team forward. He's still not found the right partner but today he was our best player.
Unfortunately, AR8 made his appearance again but that was offset by The Ox. A classic piece of attacking play created the Giroud goal. But AR8 just needs another injury. He just does not fit in this team. For some other team he could be an asset but not for us. I know I sound like a broken record but he's too slow and he takes too many touches. We can just about carry Theo – because he does at least score. But we can't also carry AR8 (along with Mustafa, Welbeck and many others).
But we won. Phew. Relief all round. Today – in the second half – was as close as we came to looking like a football team this calendar year. We are still way off our best. The balance is still wrong. We will struggle for the rest of the season for sure but we still have a chance of ending up in the top 4. I think it's unlikely, but it's possible. If the other teams can only screw up more than us we have a chance. I don't believe we deserve it. We're just not good enough. And we haven't been all season. We were for a couple of months in September and October. But we've not got our balance and rhythm right for a long time. So today was a step in the right direction but we've still got to make many more steps in our journey to recovery. It's like Arsenal Anonymous – the 12 step program to recovery. And we're only two steps in.
-LB7